If you buy something through a link on this page, we may earn a small commission. See our
disclosure page
.
What are Wrist Wraps?
Wrist wraps are cuff-like pieces of various materials that fit around the wrist and support the wrist joint during lifting and pressing weights.
Wrist wraps are essential when pressing or lifting max effort and doing overhead lifts.
Wrist wraps are intended to secure the wrists. After you continuously angle and use the wrist, putting weight on the wrist will begin to hurt or become sore.
This article aims to provide you our findings on the best wrist wraps for powerlifting currently on the market.
Without further ado, here are our findings!
The Best Wrist Wraps for Powerlifting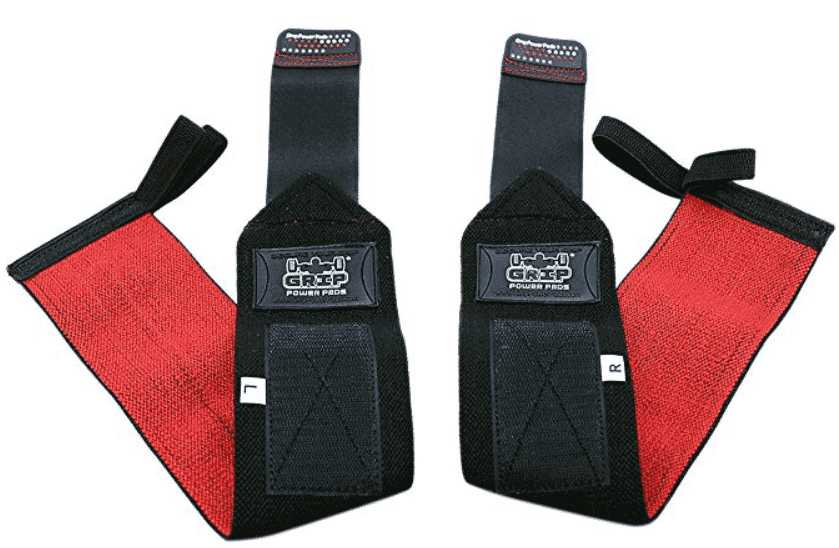 <strong>Features</strong>
High-quality stitching
Several color options
13 inches long
Extra rubber tab for easy closure
Grip Power Pad's Deluxe Wrist Wraps offer a 13-inch-long wrist wrap that offers a moderate amount of pressure to the wrist joint to stabilize the wrist during lifting.
These wrist wraps are made with high-quality stitching and strong closures to keep them tight and bound to your wrists, offering high stability. These are great for both men and women who are trainers, beginners, or CrossFit athletes.
They hold in place during burpees, planks, and jerks, allowing you to be versatile in the gym. The wrist wrap also offers an additional rubber tab at the end of the closure so the user can easily pull the wrist wrap off of the wrist after a workout.
This is a great option that offers quality and stability for a fair price.
Sturdy
Durable
Inexpensive
Great for small wrists
Stretches quickly
Rubber logo annoying
Best Place to Buy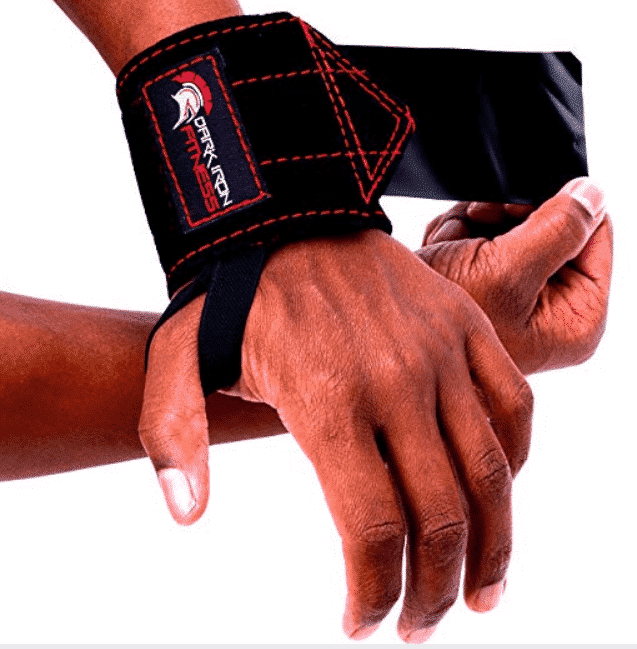 <strong>Features</strong>
Patented suede leather
Lifetime warranty
22 inches long
1/8" thick
It fits most wrist sizes
Dark Iron Fitness offers a patented suede leather wrist wraps that are designed for weightlifting. The strong leather means that these wrist wraps will age gracefully and wear down slowly.
The enhanced stitching holds the reinforced leather so it doesn't fall apart, tear, or break. The Velcro adjustment allows for quick and easy fastening and refastening.
Like the leather offers durability, the Velcro itself is a high-endurance Velcro strap, meaning that even the Velcro is also built to withstand time.
The leather itself reduces the amount of friction, rubbing, or chafing between the wrap and your wrist, leaving your skin just as smooth as when you started.
Durable leather
Velcro holds
Reduced friction
Breathable material
Not vegan-friendly
expensive than other options
Best Place to Buy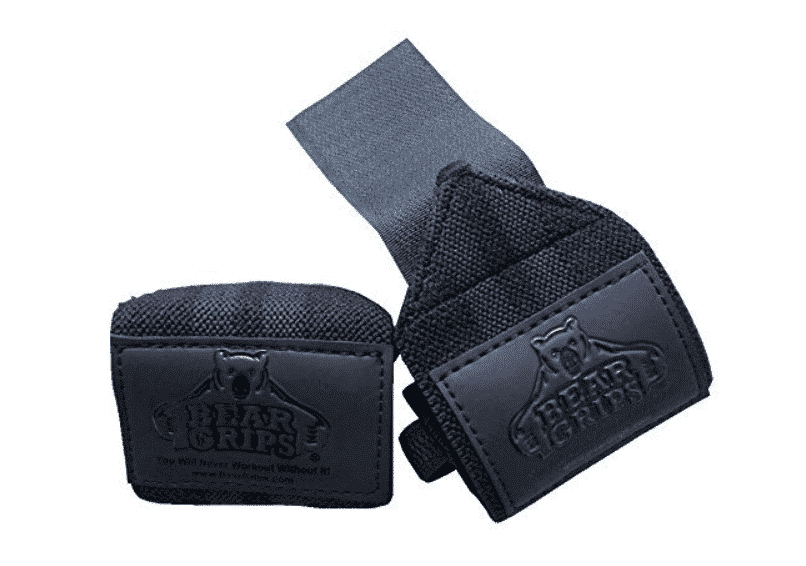 <strong>Features</strong>
Dual elastics
Velcro closure
60-day warranty
12, 18, or 24 inches
Several color options
The II-Band Weightlifting Wrist Wraps by Bear Grips boast protection, versatility, and quality. Offering 12-, 18-, 24- inch sizes, the Bear Grips wrist wraps to meet the demands of any trainer or CrossFit athlete.
With enough room to adjust, these wrist wraps are great for CrossFit, powerlifting, cross-training, and bodybuilding.
The Velcro will hold tightly in place and offer you great form, increased repetitions, and increased weights.
The elastics in the material offer you some bend and flexibility, so it can move with you if and when you need it.
Great for casual lifting
Velcro holds
Versatile in use
Not flexible
Best Place to Buy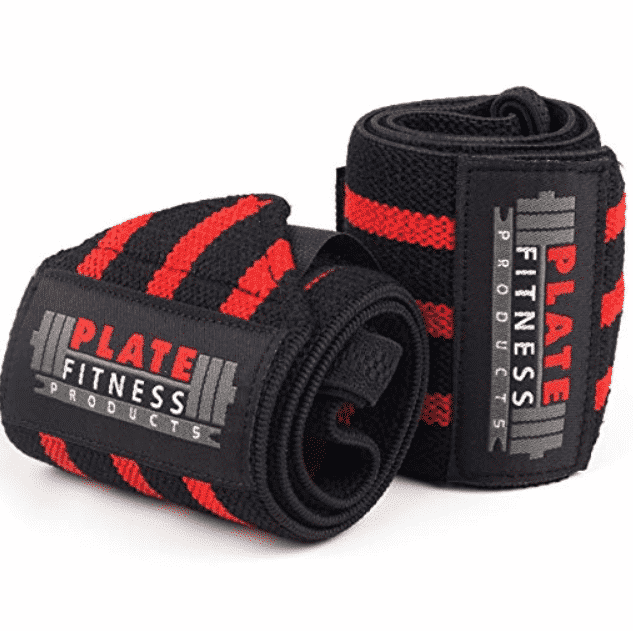 <strong>Features</strong>
Industrial stitching
Durability tested
Lifetime warranty
Plate Fitness Products offers a heavy-duty, reliable, and tested premium wrist wrap. Plate Fitness wrist wraps are made with industrial-strength stitching, which they claim "reinforces their commitment to quality."
On top of this heavy-grade stitching is the heavy material that has been tested for strength and durability. The material stays just as strong as you.
These wrist wraps also offer some flexibility and movement, so you can move successfully to complete that jerk.
The commercial-grade Velcro assures that both the wrist wraps and your hands stay exactly where you want them to be. With their one-size-fits-all sizing, anyone can pick these up and incorporate them into their training or CrossFit regime.
These are great for weightlifting, CrossFit, and powerlifting.
Durable stitching
Some flexibility
Inexpensive
Unisex sizing
Not always flexible
Best Place to Buy
<strong>Features</strong>
Reinforced thumb loop
Double-stitched Velcro
Heavy-duty straps
One size fits most
Comes with dust bag or carrying pouch
Several color options
The wrist wraps offered by BYKOTTOS offer a sleek, modern design with their reinvented logo that will inspire you to work longer and push harder.
The wrist wrap itself is made of durable materials that are two times stronger than cotton blends. It also offers breathability, so your wrists will not sweat, and the material will not collect dust as quickly.
The reinforced thumb loop will not break on you as quickly as others, and the double-stitched Velcro will assure that your wraps will stay on and your wrists will stay aligned.
The combination of material and heavy-duty straps can allow you to increase your weight and reps while remaining comfortable.
These are designed to fit and work for all wrist types, regardless of size.
Sleek, motivating design
Versatility
Breathable fabric
Limited flexibility
Best Place to Buy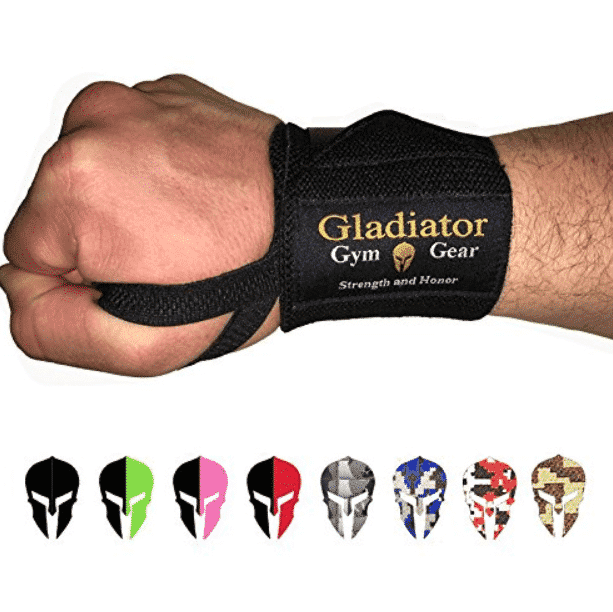 <strong>Features</strong>
Several color options (including camo)
18 inches long
Thick reinforced thumb loop
One size fits most
Just as the name suggests, Gladiator Gym Gear's G3 wrist wraps inspire each wearer to push as hard as a gladiator.
The 18-inch (length) wrist wrap is formed with a heavy-duty elastic that is soft but remains rigid enough to stay in place when wrapped on the wrist.
The material is a durable yet soft cotton fabric, so you aren't uncomfortable building your strength.
The cotton also gives you some breathability, so you do not feel as sweaty at wrists. The thick thumb loop makes you feel secure and helps retain your form.
These are a great option for various users, including those doing bench-presses, using kettlebells, or working on CrossFit.
Breathable cotton
Comfortable, cushioned strap
Durable fabric
Absorbs sweat/odor easily
Best Place to Buy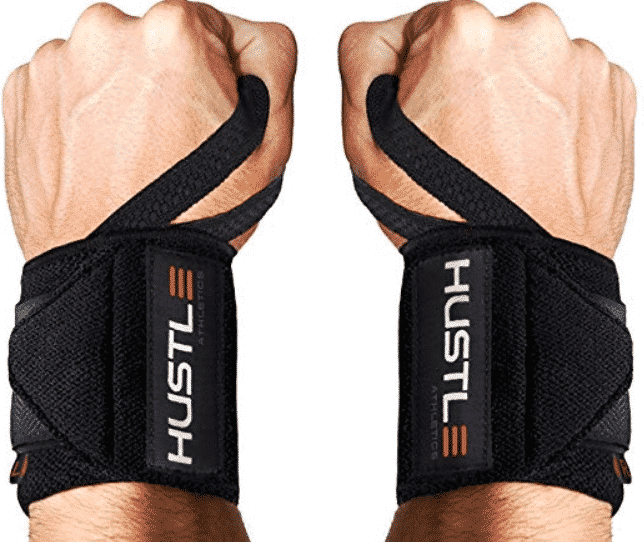 <strong>Features</strong>
Heavy-duty elastic
Cotton fabric body
Lifetime warranty
Hustle Athletics offers wrist wraps that offer great support for weightlifting and CrossFit.
Their wrist wraps offer a heavy-duty elastic brace specially designed for those who are lifting and bench-pressing higher amounts of weight.
This wrist band is not for the casual lifter. This is for powerlifters and bodybuilders. They include a high-quality cotton body that secures the wrist while offer airflow to the wrists, reducing the amount of sweat you may produce.
The stability offered by these wrist wraps will help you increase your reps and slowly increase the amount of weight you find yourself lifting.
The simple yet visually appealing design is comfortable so that you can focus on your workout.
Breathable cotton
Built for powerlifters
Durable elastic
Stiff for casual users
Minimal color options
Best Place to Buy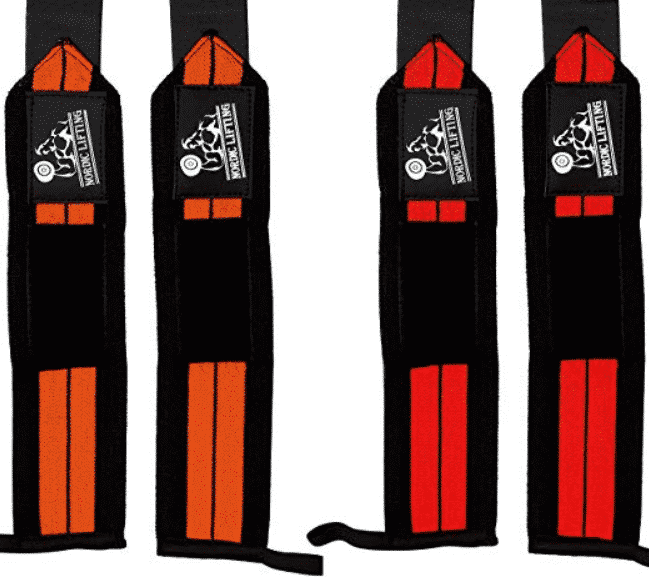 <strong>Features</strong>
14 inches long
Comes with instructional booklet
Ambidextrous hand design
Nordic Lifting's wrist wraps are specially designed for powerlifters and CrossFit athletes.
What is different about Nordic Lifting's wrist wraps is that they offer an extra-wide hook-and-loop fastener, making you feel even more secure during those intense lifting sessions.
Another interesting feature is that each wrist wrap fits both the left and right hands. Therefore, you don't need to spend time deciphering which wrap goes on which wrist.
These wraps make it simple to throw a wrap on and hit the gym quickly. Each wrap is 14 inches long and comes with an instructional booklet.
That way, you know exactly how to use the wrist wraps and when. There is no guesswork.
Extra wide hook-and-loop
Breathable fabric
Each wrap fits either hand
Not for thick thumbs
Best Place to Buy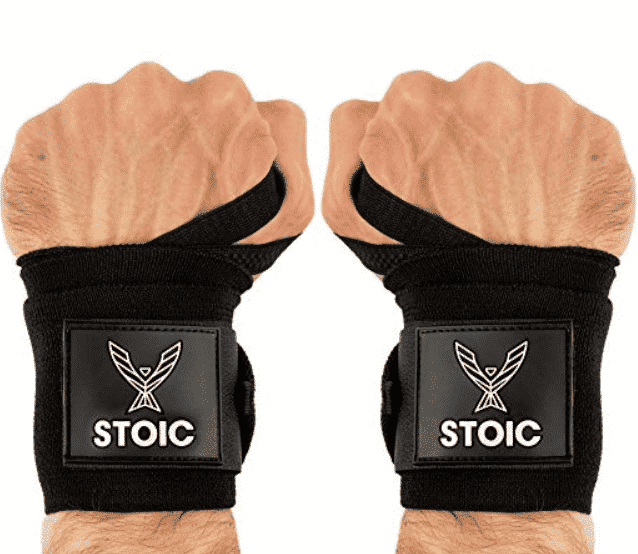 <strong>Features</strong>
Nylon fabric
Zigzag stitching
Thick ½" thumb loop
Grade 2" Hook and Loop
Proprietary heavy-duty elastic
Stoic's wrist wraps claim to be the heaviest duty wrist wraps with the highest-grade materials on the market.
They are built to withstand strenuous exercise and lifting. The high-grade nylon offers durability through the most difficult repetitions. Continuous testing demonstrates that their wrist wraps will outlast others on the market, especially in extreme environments.
The proprietary, heavy-duty elastic provides comfort and support when you need it, allowing slight flexibility necessary for good form.
The high-grade thumb loop will not fray, and the double zig-zag stitch holds the hook and loops in place securely.
Durable, proprietary elastic
Stronger nylon stitching
Not for the casual lifter
Chafing and itching
Best Place to Buy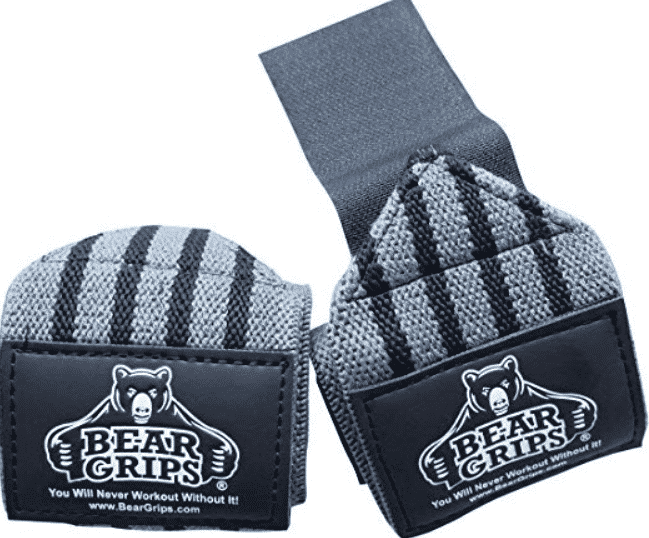 <strong>Features</strong>
Cotton-nylon blend
Wicking technology
Three size options
Thick thumb loop
The white and grey series wrist wraps by Bear Grips are a great option for those looking for a versatile wrist wrap that can be used in many different workout regimes.
The striped design in white or grey comes in 12, 18, or 24-inch sizes. The design itself makes you feel like a true athlete. The extra-strength wraps are great in multipurpose settings.
Athletes can use them in CrossFit training, powerlifting, and gymnastics.
The cotton and polyester blend allows the wrist wrap to be somewhat breathable while not compromising durability. The design wick moisture from your wrist, helping you maintain a firm, dry grip on your weights.
The extra-wide hook-and-loop closure adjusts easily and helps you keep your wrists in good form.
Different sizes
Multipurpose
Breathable
Not for the heavy lifting
Thicker fabric can chafe
Best Place to Buy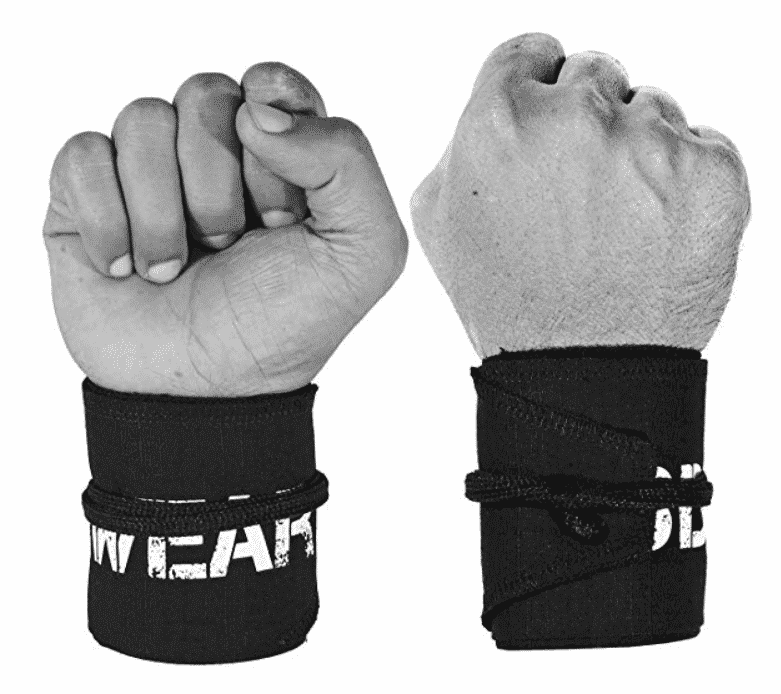 <strong>Features</strong>
Double layered cotton
Reinforced stitching
Multiple color options
Wod Wear prides itself on offering wrist wraps that athletes can adjust quickly and easily.
They want their wraps to be an alternative to the heavier, bulkier wraps offered by commercial brands.
Their wrist wraps are heavy-duty cotton layers with double reinforced stitching. The design allows for quick adjustment as you move between activities.
One of the funkiest wrists wraps you can find on the market, and our team are a big fan of them!
Easily adjustable
Vegan-friendly
Small wrist friendly
No thumb loops
Need more washing
Not for heaver lifting
Best Place to Buy
Why Use Wrist Wraps?
Lifting weights, especially when maxing out on weights, the wrist undergoes serious amounts of stress. The purpose of wrist wraps is to stabilize your wrist to reduce injury.
When you lift weights, especially above your head, the lifting and pressing cause the wrist to extend. In some instances, the strain can cause the wrist to over-extend, which damages the wrist's movement and can lead to injury.
Wrist wraps can provide extras support that your wrists need when lifting or pressing weights. By stabilizing the wrist, the wraps aim to prevent over-extension and exhaustion of the wrist joints.
The wrist wraps can also help prevent injuries within or surrounding the joints, including tendinitis, carpal tunnel syndrome, and syndesmosis. Overall, the wrist wrap is designed to reduce the strain on the wrist joints.
Since they reduce pain and stress on the wrist, Wrist wraps allow you to train more often. They also will allow you to have a firmer and stiffer grip on the weights, making it safer for you to life objects (especially above your head).
If the wrist is over-extended, you may drop your weights mid-lift so that wrist wraps can reduce the amount of dropped lifts.
When to Use Wrist Wraps?
You do not need to use wrist wraps in every strength-building situation. There are several different types of wrist wraps, and they can be used in several different situations.
It would be best if you kept in mind that repeatedly using wrist wraps can weaken the wrist's flexors and extensor muscles.
This is because your wrist is not actually working and can begin relying on a wrist wrap to assist in a lift.
There are heavy wrist wraps, and these are used when you lift or press heavier amounts of weight.
It is ideal to use wrist wraps when athletes are lifting or pressing around or at max loads.
There are lighter wrist wraps that can support the wrist for those who have wrist pain but lift lighter loads.
Additionally, lighter wrist wraps allow more flexibility, which will strengthen the wrist flexors and extensors.
As a general rule, unless you are lifting or pressing around 60 percent or more of your one-repetition maximum (1RM), then wrist wraps are not entirely necessary.
How Do You Use Wrist Wraps?
Wrist wraps circle and hug the wrist to create pressure that surrounds the wrist. This pressure will stabilize the wrist.
Many wrist wraps have a loop for the thumb. You threaten the thumb through the loop and pull the excess fabric around the wrist to build pressure around the joint.
Be sure to open the hand while wrapping the fabric around your wrist: this will allow blood to circulate freely through your hand while experiencing the pressure surrounding it.
Once the wrap is secured, the loop around the thumb can be unhooked (if desired) since Velcro or another closure secures the wrist wraps.
This way, the thumb is not irritated by the loop. Again, this is not essential, but it is rather a preference.
The wrap should entirely cover the wrist joint, preventing the wrist from fully extending backward. However, the wrap should not extend more than 2 cm above the wrist joint.
What Size Wrist Wraps Should You Get for CrossFit?
The size (or length) of wrist wrap you should get depends on your lifting style, previous injuries, and prior experience.
The length of the wrap differs in the amount of support they offer. The more you can wrap it around the wrist, the more support the wrap offers.
The longer wraps offer more support, while the shorter wraps offer some flexibility.
For those who have not worn wraps previously and/or have no injuries (previous or current), then a shorter wrap around 12 inches would be a good option. This wrap should go around the wrist about one time.
Those who lift heavy weights, have a previous/current injury, or have experience with wraps may want to consider using an 18-inch wrap.
This will wrap around 1. 5 to 2 times. This means it offers stiffer and stronger support than the 12-inch option.
There are also 24-inch wraps on the market. These wraps are more common in intense training and sports like powerlifting, strongman, or individuals only pressing max loads.
This is also a great option for someone who has serious wrist injuries or bad wrist joints.
Individuals in CrossFit can use any of the three options. The medium-length wrist wraps are a great option because they allow some flexibility to strengthen the wrists without training them to rely on them.
When to Use Wrist Wraps for Lifting?
You do not need to use wrist wraps for every strength-building exercise. The first rule of thumb is that you first only need to consider wearing a wrist wrap if you are lifting overhead.
If you are not lifting overhead, then you assuredly do not need wrist wraps.
It is a good idea to use wrist wraps when you are building your max overhead squat.
It is also beneficial to wear the wraps when you are doing metabolic conditioning that consists of a larger number of repetitions of overhead lifts.
You do not need to use wrist wraps when the lift is not overhead, and you don't need it when the weights and/or session is light and mild.
When to Use Wrist Wraps for Bench?
It is hotly debated as to whether or not to use wrist wraps for bench presses.
While some argue that it will maintain the wrist's integrity in the odd position taken during the bench press, others argue that the wrist should be able to adapt and strengthen as you train.
It is generally a good idea to use wrist wraps for bench presses when you have weak wrists or previous injuries.
It is also a good idea if you are benching around 60 percent or over your max load.
You want to give room for the wrists to adapt and grow, but you also want to alleviate any pain when benching in the upper limits of your strength.
When to Use Wrist Wraps for Powerlifting?
Wrist wraps are a great tool and piece of equipment for powerlifters. Similar to the previous sections, wrist wraps should be used towards maximum weight.
It is useful when you first introduce more weights to your regime.
Wrapping That is Right for Your Wrists
As you choose a wrist wrap, be sure to compare what you want with what kind of activity you are doing.
Some wrist wraps are not meant to be used for hefty lifting. Instead, some are intended for moderate activity. WOD Wear is a great option for those doing mild activities.
You may also need to consider your price point. Bear Grips and Hustle Athletics offer durable wrist wraps at a moderate price point. However, you can find reliable options at lower prices that may work for you.
For those doing the heavy lifting, you will want to consider heavier duty fabrics.
Hustle Athletics offers a durable wrist wrap for serious lifters, but this option is unnecessary for lighter lifting.
We hope this guide will give you a good start in thinking about what kind of wrist wraps you may need and the kind of features you should be looking for.
Always choose a wrap that will assist you in your strength and flexibility.
**Last updated March 2021