If you buy something through a link on this page, we may earn a small commission. See our
disclosure page
.
Military Muscle is a natural testosterone booster intended for men who want to enhance their athletic performance, as it builds up muscle strength. It's also intended to increase sexual libido.
This is a fairly new product on the market, so there aren't a lot of customer reviews out there yet.
We're going to have a look at this supplement in detail, including its ingredients, dosage, side effects, and pros and cons.
Before you read this review, have a look at the manufacturer's website for this product so you can look at some of the details for yourself.
Later we'll examine some of the competing brands so you can see if Military Muscle really stands up.
Now let's delve into our review.
---
How does Military Muscle work?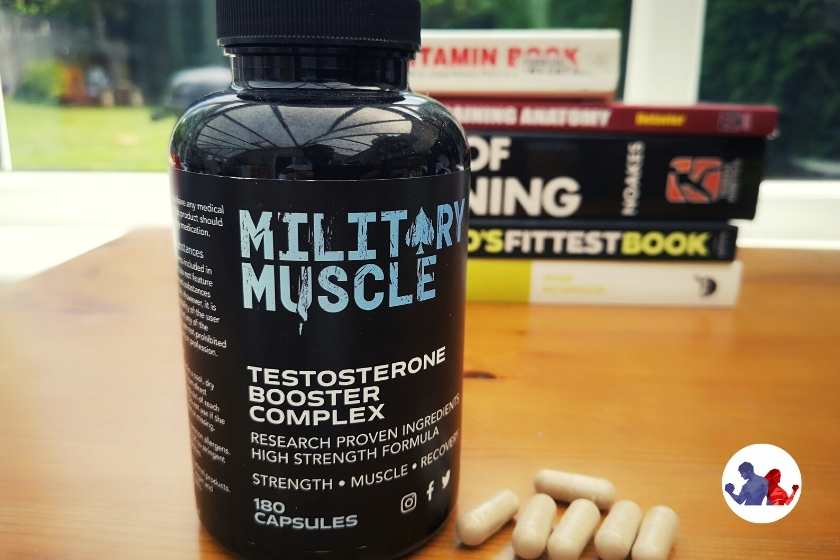 This product is packed with vitamins and minerals, which are good for your general health. They also resolve any deficiencies you have, which in itself will help improve your athletic performance.
The main purpose of this supplement is to raise levels of testosterone in the body. None of these ingredients have testosterone directly, they simply initiate its production.
The additional testosterone raises sexual libido, and it also increases the strength and mass of the muscles. There are other substances which increase the production of nitric oxide in the body.
This leads to improved circulation all over your system, which may make it an effective treatment for erectile dysfunction.
---
Military Muscle Ingredients
This is the full list of 11 ingredients in Military Muscle, which includes herbal substances, vitamins, and minerals.
Let's have a look at how they function in detail.
Vitamin A – 257mcg – This vitamin has numerous benefits, including supporting bone health, reproduction, eyesight, and immune functioning. A study in Clinical Endocrinology showed that Vitamin A and iron supplementation was effective as hormonal therapy in delayed children.
Vitamin D3 – 99.96mcg – This is an essential mineral in human beings and one that many people lack. There's some evidence that Vitamin D can help raise testosterone levels.
A study in Hormone and Metabolic Research showed that Vitamin D supplementation did lead to a moderate increase in testosterone levels in men.
Ashwagandha – 600mg – This is an Ayurvedic herb that has often been used to reduce stress and anxiety. There's also some evidence that it can increase testosterone levels (3).
A 2019 study in the American Journal of Men's Health found that ingestion of this plant led to an increase in testosterone levels in aging, overweight men.
Vitamin K2 – 45mcg – This is a vitamin with several health benefits, including protection from developing coronary heart disease and strengthening immune functioning. It also supports steroid production in the testes and may increase testosterone levels.
A study on rats in Food and Function found that injection of Vitamin K alleviates a reduction in testosterone production.
Iron – 12mg – Iron is a mineral that is essential for oxygen transport and metabolic processes. There's some evidence that frequent workout training can lead to a deficiency.
A study in the American Journal of Physiology showed that older men with low iron levels also suffer from low testosterone.
Zinc – 20mg – Men who are deficient in testosterone often have low zinc levels, so there's likely a connection. Evidence demonstrates that giving men zinc can increase their testosterone levels.
A study published in Nutrition showed that supplementation of zinc in men with a deficiency led to an increase in levels.
Urtica Dioica – 360mg – This is also referred to as stinging nettle extract. It's a potent anti-inflammatory that has been used to treat arthritis and related issues.
There's evidence that it can raise testosterone levels and support a healthy prostate. A study on rats in Andrologia showed the beneficial effects of nettle on prostatic hyperplasia.
D-Aspartic Acid – 2300mg – This is an amino acid found in the central nervous system. D-Aspartic Acid is thought by some to increase testosterone levels, but the evidence doesn't support this.
A study published in PLoS 1looked at the effects of this substance on men doing resistance training over a 3-month period. They found it was ineffective in raising testosterone levels.
Fenugreek – 500mg – This is an herb native to the Mediterranean region, and it has often been associated with weight loss. A study in the Journal of Sport and Health Science looked at men who ingested fenugreek during resistance training over 8 weeks.
The researchers found a reduction in body fat without a reduction in muscle strength.
Mucuna Pruriens – 56mg – The seeds of this plant are suitable for male reproduction. A study in Fertility and Sterility showed that Mucuna Pruriens improves male fertility by its action on the hypothalamus.
Boron – 10 mg – This is a mineral that is usually derived from food. There's some speculation that it builds muscles and increases testosterone levels, but the research doesn't support this.
A study published in the International Journal of Sport Nutrition showed that Boron supplementation in bodybuilders had no impact on testosterone levels, strength, or lean body mass.
Visit their ingredient page to learn more about the complete list of ingredients.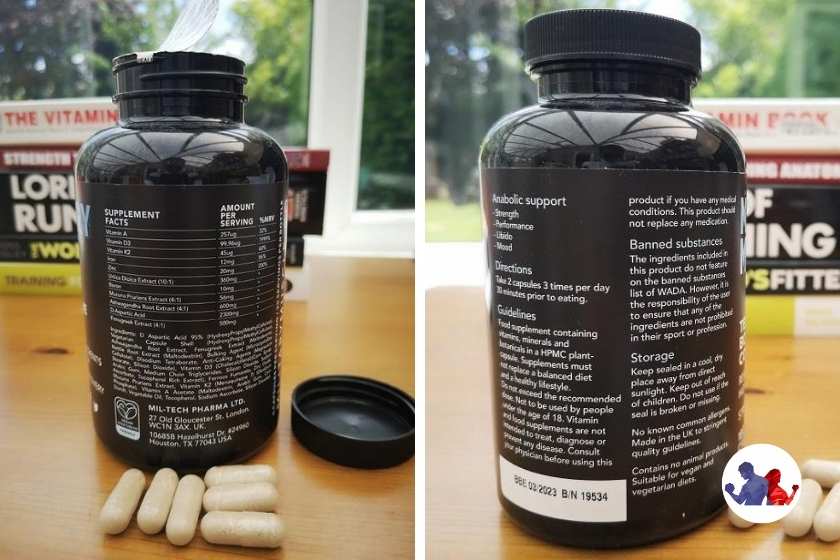 ---
Any side effects?
According to the manufacturer, this product has no side effects associated with it, and no allergens included.
However, if you do have any allergies, check the ingredient list carefully to make sure everything is suitable for you.
If we analyze the ingredients, some of these substances may cause some mild side effects.
For example, Fenugreek may lower blood sugar, and it would also lead to nasal congestion, coughing, wheezing, facial swelling, and allergic reactions (2).
Ashwagandha is safe, but in some cases, it can lead to mild symptoms like headache, sleepiness, and stomach upset (3).
---
How do you take Military Muscle?
The manufacturer recommends that you take 2 capsules 3 times per day, 30 minutes before you eat a meal. The maximum dosage is 6 capsules per day.
Don't take more than the suggested dosage under any circumstances or it could be harmful. Make an appointment with your physician before you begin taking Military Muscle to ensure that it's medically suitable for you.
Pros
This product may build up your muscle mass.

It can develop your muscle strength.

Military Muscle could improve your exercise recovery.

The supplement may enhance your mood.

It can decrease your body fat.

Military Muscle could enhance your sexual libido.

It can increase the strength of your bones.

This product can elevate your heart health.
Cons
This is a premium product.

The recommended dosage is six large capsules per day.

Only available at the maker's website
---
Where can you buy Military Muscle?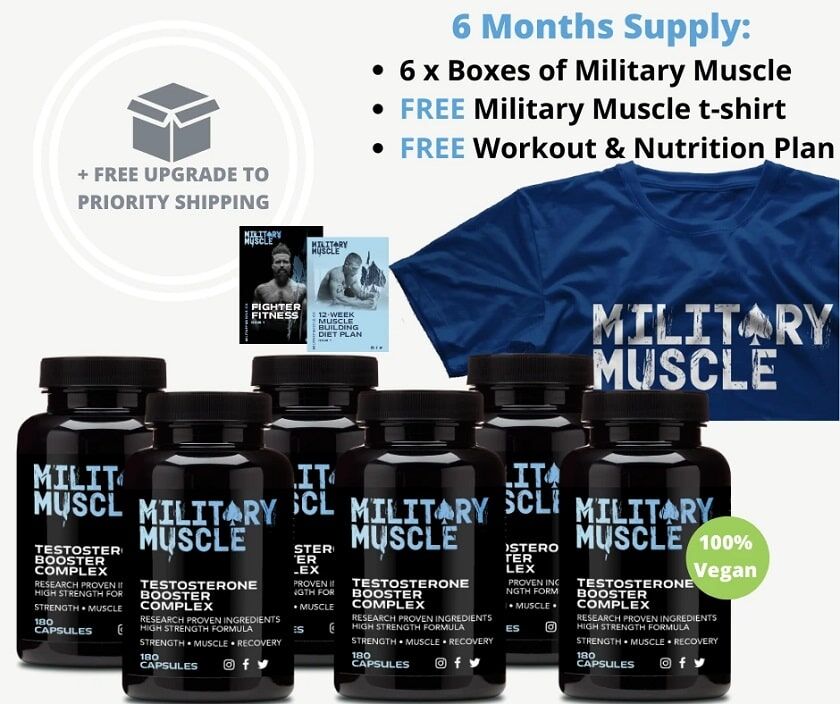 You can purchase this product on the manufacturer's official website. They offer free worldwide shipping. The prices are as follows:
1 month supply – $69.00
2 month supply – $124.00
4 month supply – $199.00
6 month supply – $285.00
---
Is it a good value for the money?
Military Muscle is a costly product. Although many of the testosterone boosters are premium, few cost this much.
Also, there are supplements for considerably cheaper, which have a quality collection of ingredients.
Still, the ingredients included in Military Muscle are diverse and of high caliber.
However, given the wide variety of selections on the market, it begs the question, does the price justify?
You can find a quality testosterone booster and pay a lot less.
As different products work differently for different people, whether this product is good value also depends on how well it works for you.
If it does what you need it to do, then it's good value. Click the link below to look at our list of competing brands to make a comparison.
Best Testosterone Booster Supplements
See our curated list of the best testosterone booster supplements for 2021 View the List
---
Does Military Muscle work?
Military Muscle is a very new product, and it's not for sale on Amazon at the moment.
There are few to no customer reviews of this product online, so it's hard to know if it works from the user standpoint.
If we look at the substances included, they are all high-quality ingredients with scientific research backing up their efficiency.
Plants like ashwagandha and fenugreek do increase testosterone levels, demonstrated in studies.
Therefore, this product should do what it says it does, at least to some extent. For more information, we'll have to wait until it's on the market for a little longer.
---
FAQs
For how long should I use Military Muscle?
The supplement builds up in your system over time. It will reach its peak effectiveness after about three months if you take it daily.
Who should use Military Muscle?
The product was developed for adult men, although women may also receive some benefits.
It's mainly intended for men who are athletes or who work out regularly and want to improve their athletic performance.
Can women use Military Muscle?
Women can use and get some benefits from this product, in terms of elevating sexual libido and building muscle mass.
There's nothing in the product that could be harmful to women unless they are pregnant or have cancer that is sensitive to hormones.
Is this a legal product?
The manufacturer guarantees that this product is absolutely and completely legal, and so are all of the ingredients included.
Can vegetarians or vegans use this product?
Yes, this product is 100% suitable for both vegetarians and vegans.
None of the ingredients have any meat derivatives, and the capsule is made of plant materials. There is nothing in the product which would be unsuitable for vegans.
---
Our Verdict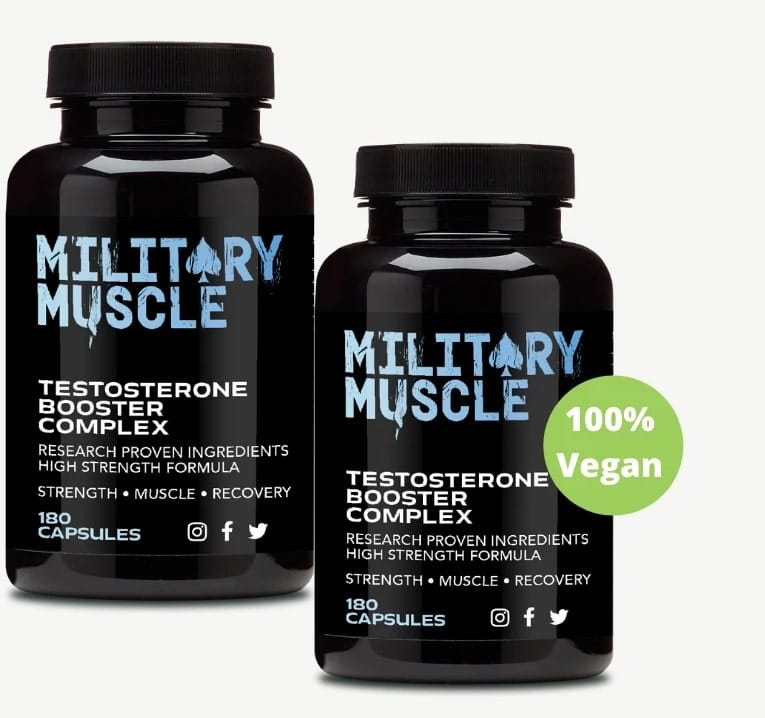 Looking at this product, on the whole, it's a good quality brand with solid ingredients. Unfortunately, there are few user reviews online, so we can't get an idea of customer opinion on Military Muscle.
This supplement is intended as a testosterone booster, which does a lot to increase the strength and mass of the muscles and possibly enhance athletic performance. It's intended for men, but it may also provide some benefit to women.
Military Muscle has several other important benefits, such as enhancing your mood and raising your sexual libido. For those who also want to lose weight, it can decrease body fat.
The manufacturer also purports that the product has medical benefits, like improving heart health and increasing the strength of your bones.
There are some downfalls to Military Muscle, although they aren't numerous. The most significant disadvantage of the product is its very high price.
The other big issue is that the dosage involves taking six large capsules per day, which many people will not be able to do. We hope this is the ideal testosterone booster for you, and that it does what it promises.
Remember that for the supplement to work most efficiently; you also have to follow a healthy lifestyle of proper nutrition and regular exercise.
Related:
---
Best Testosterone Booster Supplements
See our curated list of the best testosterone booster supplements for 2021 View the List
*last updated – April 2021
---