If you buy something through a link on this page, we may earn a small commission. See our
disclosure page
.
Whether you are a CrossFit expert or new to your fitness regime, you are going to need a fitting jump rope to complete your workout.
Jumping rope may seem like a simple exercise, but jump ropes are easily accessible and provide an excellent workout for the body.
Finding the perfect jump rope can be intimidating, but our definitive guide will help you select the ideal rope for your body and fitness routine.
What are Jump Ropes?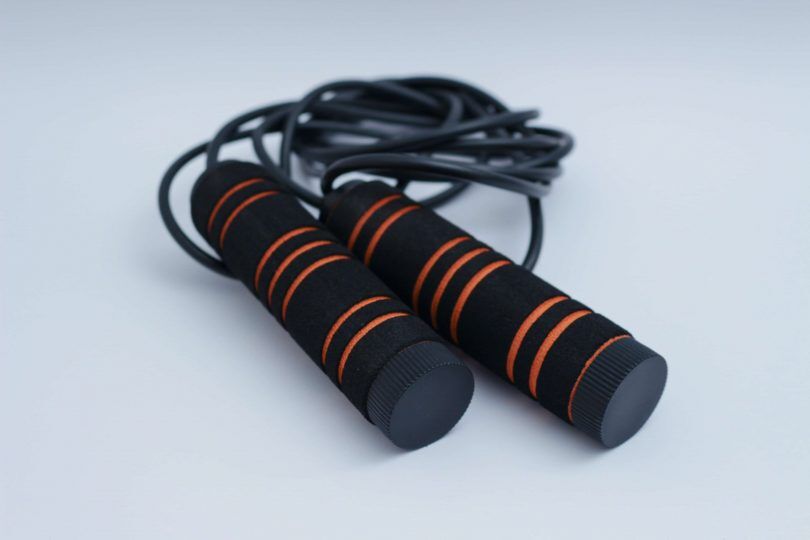 For those new to exercise equipment or just getting started in CrossFit, a jump rope is a piece of cord, rope, or rubber with two handles at both ends. This is the basic idea of a jump rope.
However, jump ropes come in different sizes, shapes, and materials. They each are aimed at different kinds of uses and exercises.
For instance, speed jump ropes are most often made with vinyl or nylon-covered cord. These are light and allow more turns or jumps per minute.
On the other hand, beaded ropes are typically nylon covered in a polymer, like polyurethane. These beaded ropes are more massive and slower swings (or turns) per minute. These are better ropes for beginners.
How Do You Use a Jump Rope?
To use a jump rope, you:
Hold one handle in each hand, and
Then you swing the length of rope or cord over your head
The rope will fall to your feet
As it does, you jump over the rope and continue to swing the rope over your head for another jump/repetition.
As you build skill and strength, you can incorporate tricks into your jump rope routine. You can include side swings (where you twirl the rope beside you) or skiers (where you jump to each side as if skiing). You can tap your heels or toes, and you can even hop on one foot.
How Long Does the Rope Need to Be?
The length of the rope depends on the height of the person jumping, and the kind of workout is done.
At a minimum, the rope needs to be long enough to swing over the jumper's head, as well as reach the ground at the jumper's feet.
Beginners may want more space between their head and the jump rope as it passes over them. For those interested in speed, the jump rope may pass mere inches above the head.
A good average is a 6- to 12-inch allowance over the head. Speed jumping can reduce this number slightly, while beginners and freestyle jumpers can increase this slightly.
Many ropes can be adjusted, either by a mechanism at the handle or by tying knots right under the grips.
What Muscles Does the Jump Rope Work?
Jumping rope works several different parts of the body, despite the workout seeming simple.
Jumping rope first and foremost works the muscles in the legs, especially the calves. As you jump, the leg muscles take the impact of the ground and must exert energy to push off of it. At the same time, the posture you use while jumping works the core and abdominal muscles. This also means your back muscles are working.
Many people forget that your heart is also worked through the cardio presented through jumping.
How Fast Do You Use the Rope?
The speed at which you use the rope depends on your experience, body's abilities, and workout. Understandably, the more turns per minute mean the more calories burned.
Some individuals can jump at 120 to 140 turns per minute. This can be decreased or increased depending on your goals and your body's ability.
Best Jump Ropes for CrossFit in 2021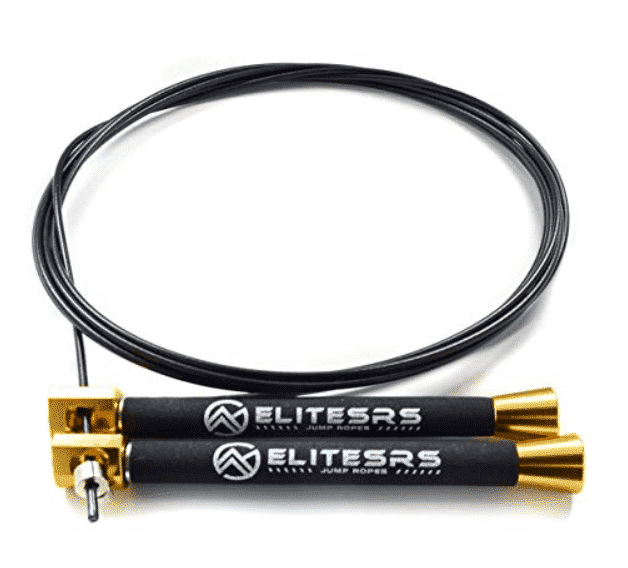 <strong>Features</strong>
Standard nylon coated cable that is kink-resistant
Storage bag included
The rope extends from the side of the handles, not the top
The rope extends from the side of the handles, not the top
Non-plastic dust bag included
The Elite Surge 2.0 is a significant jump rope for Double Unders. The Elite Surge has two 1-ounce handles made of sturdy aluminum that offers up to seven or eight jumps per second.
The handles offer a soft foam grip that helps with control of the rope's swing. The screw and collar system allow a quick and easy way to replace worn cables, or you can change out the cable for a different workout experience.
The Elite Surge 2.0 comes with a cable that measures 10 feet in length. With a screwdriver, the collar can be released, and the cord can be interchanged with six different wires. Additional cables for the jump rope can be purchased separately.
This rope is great for CrossFit training, speed jumping, and boxers. It allows for comfort while allowing for speed and control in jumping. The ability to change cords provides diversity in workouts, and the aluminum handles offer a durable product.
The double bearings reduce friction, which makes the rope last longer and spin faster.
Adjustable screw/collar
Light aluminum handles
Two bearing system
Six cable types

Finding the right fit for the bearings
Grip may be small

Best Place to Buy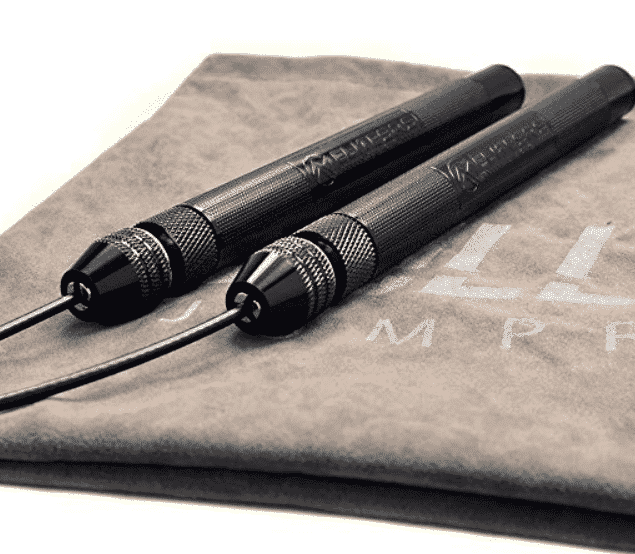 <strong>Features</strong>
Different color options for the handles (including a galaxy print)
Eight cable color options
Dual steel ball bearings
No tools needed to tighten/loosen the rope
The Bullet COMP by EliteSRS is a great jump rope for anyone that wants to jump quickly and efficiently. This jump rope comes with 5.5-inch aluminum handles with a knurled grip (meaning it has ridges in the aluminum for better grip).
The 10-foot rope is covered in nylon connected to steel ball bearings at the handles. Unlike other jump ropes, this jump rope does not require screwdrivers or other tools to swap out the rope for a new one of a different style.
The dual ball bearings, made with steel, allow almost frictionless. This design, which is better suited to more advanced users, allows for more jumps per minute.
This jump is ideal for those further advanced in jumping rope or in their CrossFit regime. It offers a seamless experience and faster speeds. It is also excellent for those who need to adjust their ropes, which frequently change their cables. The locking mechanism is secure and holds the rope in place at the handles.
No tools needed to resize
Steel bearings will not rust
Aluminum handles
Offers higher speeds

Small Handles
A wire cutters needed
Grip harder with increased sweat
Handles weightier

Best Place to Buy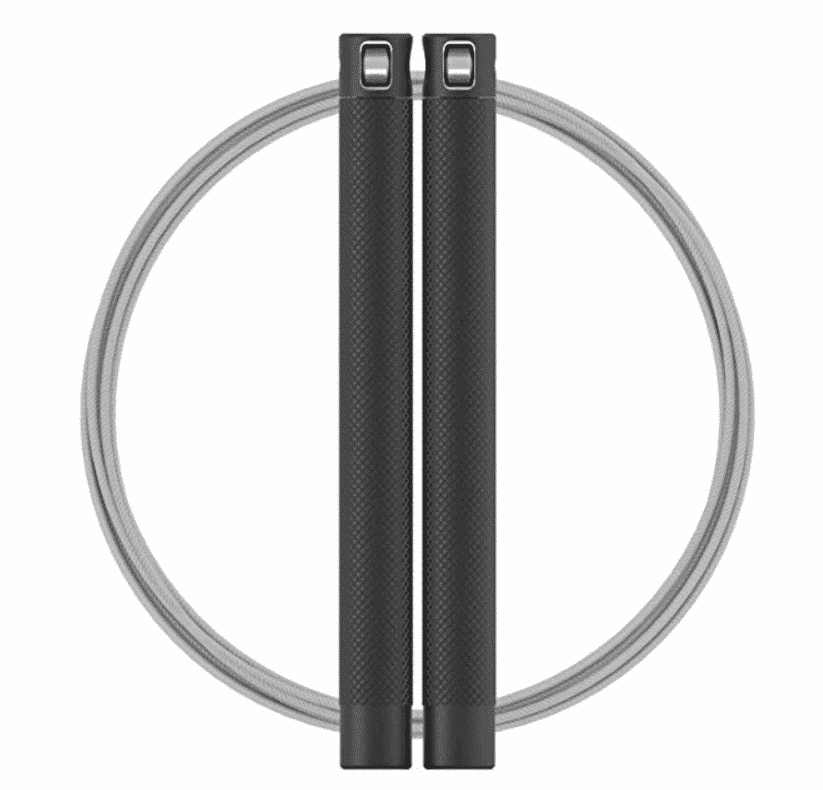 <strong>Features</strong>
12-foot cable
Made in the USA
Dual-axis rotation
Knurled handles
Microfiber dust bag included
RPM's Speed Rope 3.0 offers a rope that is built for hardcore workouts and speedy jumpers. The 5.5-inch handles are about 1.1 ounces each. The handles themselves are aluminum and guaranteed to last for your lifetime.
They also house a dual-axis rotation system, which allows the rope to swing freely from the end of the rope. It boasts an internal anti-friction system that should carry energy from your hand to the cable more efficiently. The rope itself has a clear coating. The clear coat allows you to jump on more abrasive surfaces.
This rope is ideal for jumpers looking to move at higher speeds and reach more turns per minute. It is also great for those that like to jump into a diversity of environments or locations.
The clear coating will protect the rope from more rough surfaces, and the long wire allows for personal length adjustments so that you can find the rope length perfect for you.
Very lightweight
Coated cable
Durable materials
Engraved handles available
Coated or uncoated cable available

Expensive model
Lightweight model
Extended use causes injury

Best Place to Buy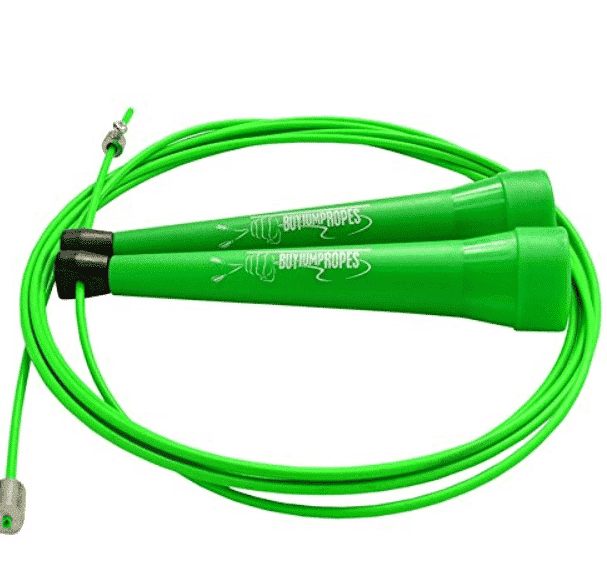 <strong>Features</strong>
Made in the USA
Polymer dowels
Polymer handles
0.7 oz. handles
2-year warranty
Steel cable coated in nylon
The Ultra Speed Rope 2.0 by BuyJumpRopes is an ultra-lightweight rope that offers handles that are only 0.7 oz each. Instead of metal, this rope extends polymer dowels made in the USA.
The rope allows you to change cables or cable lengths while still maintaining its lightweight. The cable included is ten feet in length, but this can be resized for the jumper.
The cable itself is steel coated in nylon and is kink resistant. With your purchase comes a two-year warranty on the handles. This jump rope is lightweight and durable.
The Ultra-Light 2.0 rope is excellent for beginners and casual jumpers. The lightweight handles will cause you less arm fatigue, meaning you can work out for more extended periods. The weight allows for proper form and longer cardio.
You can also feel safe buying with a 2-year warranty on the handles.
Ultra-lightweight
2-year warranty
Inexpensive
Professional jump rope

Excess friction
Slower speed
Noisy

Best Place to Buy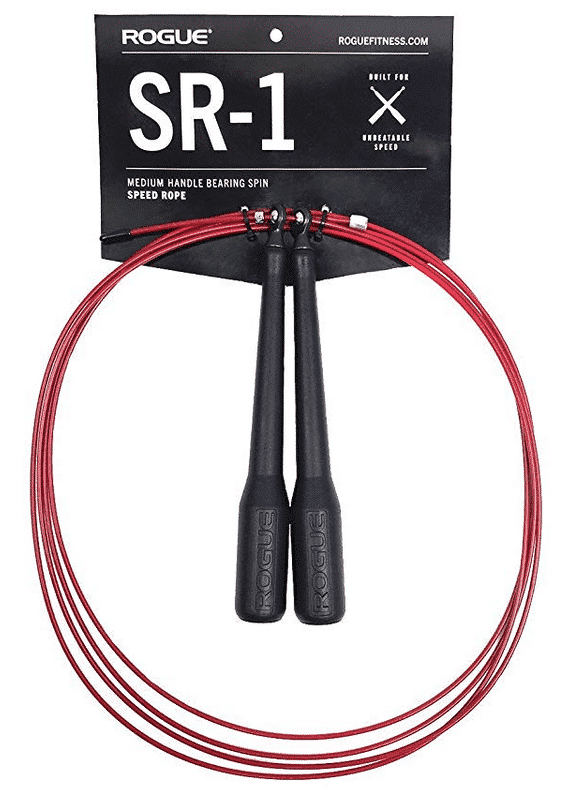 <strong>Features</strong>
Tapered handles
Coated cable with 3/32" diameter
10-foot cables (11 foot available on order)
Four ball bearings
Seven color options
Nylon (glass-filled) handgrips
The SR-1 Bearing Speed Rope by Rogue Fitness is built with a 6" rotating handle for a steady and firm grip. The hi-precision ball bearings allow for fluid movement and more turns per minute.
The handles themselves are tapered for a sleek design and better use. The standard rope is 10 feet. The rope itself is a nylon-coated cable that is 3/32" in diameter.
The handle offers a glass-filled nylon resin, which should help you keep a grip on them. The handle on the SR-1 is over an inch longer than the SR-1S. The materials are built to last and will allow you to increase your turns per minute.
The SR-1 is the happy medium between Rogue's SR-1S model and the SR-1L model. The handle size fits between the two models while offering the same expectations. For those taller, buyers can order an 11-foot rope rather than the standard 10 feet.
The handles have four bearings, which offer more rope movement at the top of the handle.
The ease of movement and the reduction of friction stress the hands, arms, and shoulders. While the tapered handles can help with grip, the glass-filled nylon grips can become uncomfortable after long periods.
This is great for beginners and those working in the gym.
Fluid movement
Better grip
Good for tall jumpers

Bearing can wear out
Hard to replace/repair
Only for rubber and non-abrasive surfaces

Best Place to Buy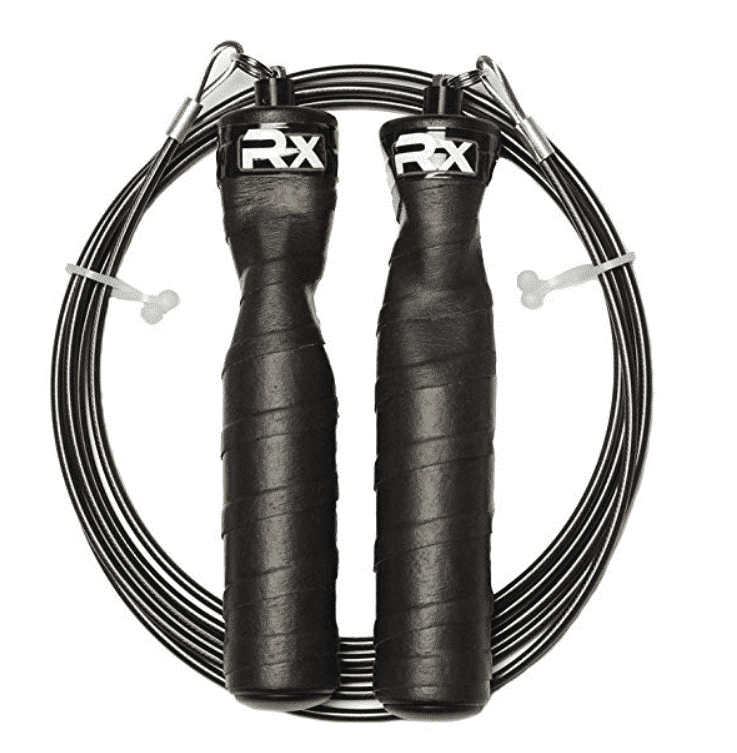 <strong>Features</strong>
Swivel attachment (patent)
6-inch handles with pinch towards the top
Custom handles, rope, weight
Dust bag included
Bulk order program available
The Rx Jump Rope by Rx Smart Gear is made custom to the individual buying the rope. This rope looks industrial, and it is made with durable materials.
This jump rope includes an attachment that allows the mechanism to swivel. The company patents this design. The design gives the user more control over the speed of the rope. Therefore, jumpers will have more ease in creating rhythm in their jumps.
The handles are six inches in length and near an inch in diameter. The handles are then swaddled in a tape that is designed for grip. The company offers five different cables so that users can choose the cable right for them.
CrossFit athletes and rope jumpers use the Rx Jump Rope. The rope is indeed expensive, but you must consider that the jump rope is made for a custom order and offers various options in length, cable, and color.
The rope looks like it belongs in a boxing ring, and anyone holding it will feel immediately powerful and ready to take on any fitness regime.
Custom Design
Tape offers a solid grip
Design offers effortless swing
Design help control speed
Changeable ropes
32 design options

Custom rope
Options overwhelming
Expensive
2 days to build

Best Place to Buy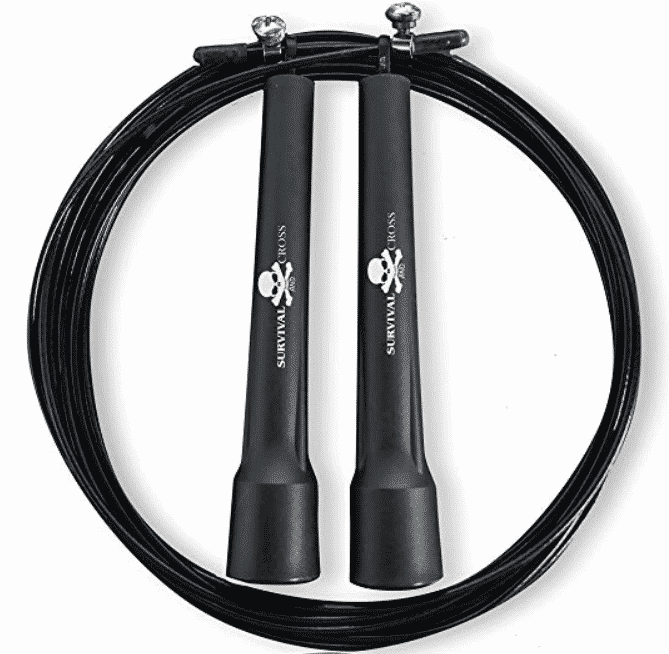 <strong>Features</strong>
Cable wire covered in rubber (10 feet)
5-inch handles
Two sets of collars and screws
Rubber end caps for rope cutting included
Lifetime guarantee
This Speed Jump Rope by Survival and Cross is the number-one selling jump rope on Amazon. The Cable and Cross jump rope consists of handles that are five inches in length, leading to a 10-foot cable wire coated in rubber.
The collars and screws help you resize the length of your rope for your perfect fit. The purchase also comes with a digital exercise manual. The lightweight and the tapered handles make double unders easier and quicker.
Buying the rope from Survival and Cross also comes with a lifetime money-back guarantee if you don't like the product.
This favorite item sold by a family-owned business is excellent for all users of jump ropes. The Survival and Cross rope offer speed, durability, and the perfect weight for CrossFit athletes and serious trainers.
The grips and moderate weight also make this an excellent rope for beginners and casual users who want to integrate some jump rope into their fitness routine.
family-operated business
Lightweight and durable
Lifetime guarantee
Inexpensive
Easy adjustment
Slim Handles
Hard to use
Hard to assemble
Tricks difficult

Best Place to Buy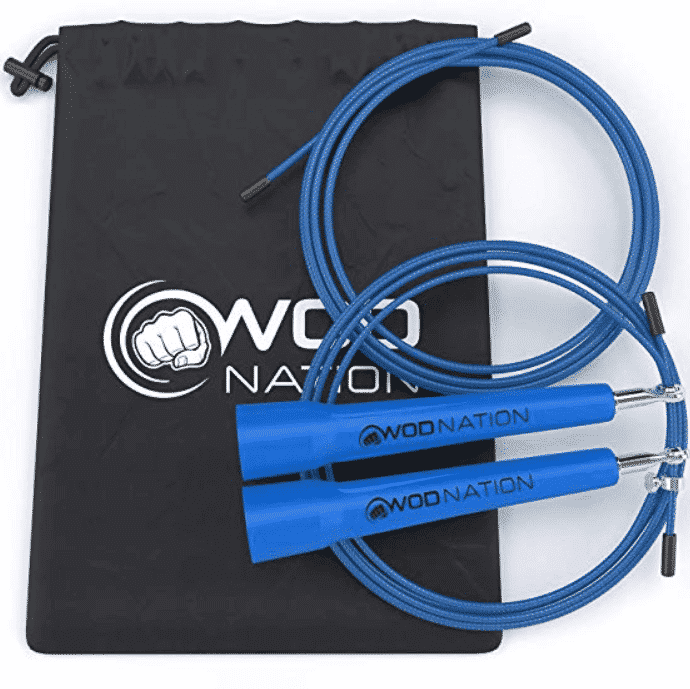 <strong>Features</strong>
6.75" handles that are tapered
Four ball bearings
Nylon resin handles
11-foot coated cable (kink-resistant & tangle free)
Dust bag included
Extra cable included
Additional hardware included
The Double Under Speed Jump Rope by WOD Nation is built for its name—double unders. Like Rx Smart Gear, WOD Nation also has patent technology in its ropes.
Their patented double steel bearing system allows for smooth, almost frictionless swings and quick turns. This can significantly increase your turns per minute.
The cable is steel-covered in nylon that is kink-resistant and tangle-free, so you have more time to work out instead of detangling your ropes. Your purchase also comes with replacement hardware, in case yours wears out.
On top of that is a lifetime guarantee. Therefore, your double unders will improve with his lightweight and smooth jump rope, and you are prepared to repair it after you've worked out the rope in the gym.
This is a great jump rope for CrossFit athletes. It is designed with the fluidity and movement of a CrossFitter in mind.
The handles allow for a relaxed grip, and you can adjust the rope length to your measurements. You can expect your turns to increase with this rope surely.
Built for CrossFit athletes
Includes replacement hardware
Lifetime guarantee
tangle free rope
Spare cable included
Great value

11 ft rope
Rope moves from the side
Poor instructions
Best Place to Buy
Finding Your Perfect Jump Rope
These are just several jump ropes to choose from when thinking about incorporating jump ropes into your workout routine or looking for a great jump rope for that CrossFit regiment.
All of these jump ropes offer great benefits, but they all also have cons that may not work with your workout or speed.
Always do your research to find a jump rope that works best for you. Always consider your own body, your needs, your goals, and your exercise plans. Some jump ropes are built for speed; therefore, these speed ropes will probably not work well for casual users or beginners.
Speed is not always the answer; you need to find one that works well for you.
Always think about the material as well. Some ropes shouldn't be used on abrasive surfaces, such as sand, concrete, dirt, or pavement. On the other hand, coated jump ropes may be more useful to users who work out in various environments, like the beach or driveway.
The key here is to map out your lifestyle and your typical workout. Figure out where you use a jump rope and how. You may also find that you have preferences. You may like the rope extending from the top of the handle, not from the side.
Make sure your rope meets your preferences. Once you've selected a rope that matches your lifestyle, you are ready to take your training and CrossFit regime to the next level!
This post was last updated on 13th April 2021