If you buy something through a link on this page, we may earn a small commission. See our
disclosure page
.
"Load up your guns" who would ignore such a tagline when shopping for pre-workout supplements. We all want 'our guns loaded,' but we aren't just sure how to supplement how workouts.
4 Gauge, one of the pre-workout supplements in the market, claims to help you 'load up your guns'. 4 Gauge uses the principle of 2Bs, Body, and Brain. It claims to help your brain and body achieve maximum performance by improving your focus, endurance, power, and stamina.
Does 4 Gauge really "Load your guns"? Made exclusively with natural ingredients with no trace of artificial sweeteners, for the most part, 4 Gauge lives up to expectations. It helps you maintain focus, lift more, and achieve greater muscle strength.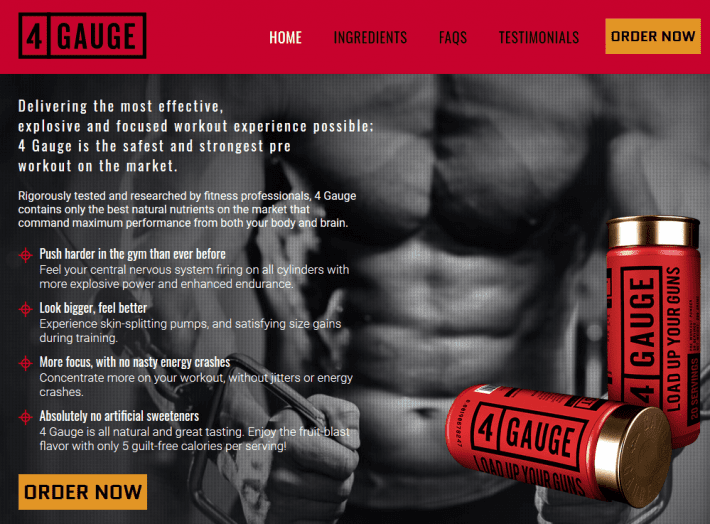 Check out their website: www.4gauge.com
Coming in a vibrant red package made to look like a shotgun shell, 4 Gauge suggests that you can build up your muscles and pack on some serious guns using the product.
While the packaging may be enticing, we decided to look into the package to see just how much this pre-workout supplement works and what is actually in the mixture.
How Does it Work?
4 Gauge is a pre-workout supplement designed to be used 20-45 minutes before a workout session or an athletic event. The company suggests mixing 1-2 scoops of 4 Gauge in 300-350 ml of liquid. This liquid could either be a shake, juice, water, or another form of drink that you prefer.
Consuming the supplement before the workout allows time for the active ingredients to be absorbed into the body. The active ingredients then work together to bolster the body's ability to achieve maximum performance.
With improved focus and bolstered energy levels, you can work out longer and harder. It can help you increase repetitions or cycles.
Some ingredients work to relieve stress on the body during workouts while helping the body produce or retain chemicals in the muscles to help muscle maintenance.
Overall, 4 Gauge is aimed at helping the body stay focused while minimizing fatigue and stress during and after workouts.
4 Gauge Ingredients
Roar Ambition prides itself on its natural and active ingredients. These ingredients work together to enhance focus, energy, and motivation. The following are a few of the key active ingredients in 4 Gauge.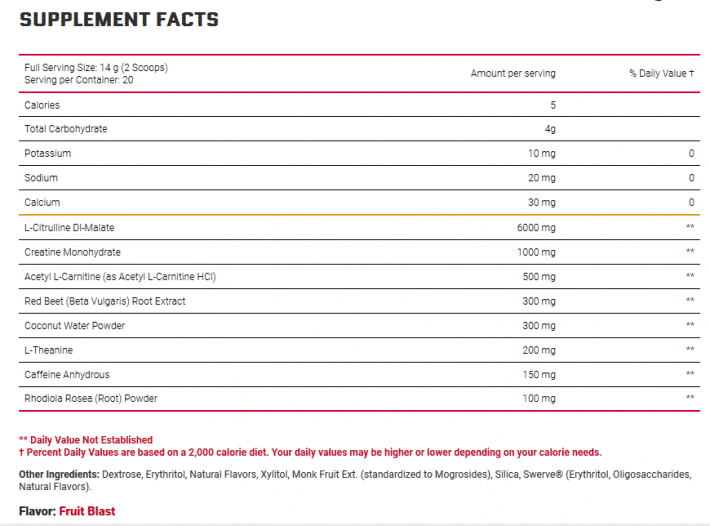 Check out 4 gauge ingredients here: www.4gauge.com/ingredients/
L-Citrulline Di-Malate and Creatine Monohydrate are the two major ingredients of this product. You can see below what these ingredients are and the purpose they aim to serve.
Caffeine and L-Theanine
L-theanine is a kind of amino acid that is found commonly in tea, especially green tea. Studies show that L-theanine directly affects and regulates the brain.
Scans of the brain show that L-theanine increases alpha frequencies in the brain, creating a relaxation feeling.
L-theanine has also been shown to improve attention and improve focus. This amino acid blocks the interaction of L-glutamic acid and glutamate receptors in the brain. Preventing these acids instigate anti-stressing effects on the body.
According to scientific research, both caffeine and L-Theanine have been proven to improve mood.
L-Citrulline Dl-Malate
L-Citrulline is also an amino acid that mixes with other acids like DL-malic acid to improve energy production. This acid helps the body remove unneeded nitrogen in the body. This amino acid is found in some fruits, like watermelon.
Creatine Monohydrate
This chemical is naturally found in the body, but it is also a common ingredient in many pre-workout supplements. When used in supplements, It plays a major role in building, enhancing, or maintaining muscles.
According to the U.S. National Library of Medicine, Creatine monohydrate has been shown to "improve the athletic performance of young, healthy people during a brief high-intensity activity such as sprinting."
Creatine has also been permitted as a consumable substance by the International Olympic Committee and the National Collegiate Athletic Association.
The chemic not only improves muscle strength and maintenance but can also be used to combat issues with bone density, pulmonary disease, heart problems, some forms of diabetes, and imbalances that affect mood.
Please note that these are the intended effects of these ingredients.
All bodies are different, and we always recommend that you use new pre-workout supplements carefully.
Always track how your body responds to new supplements. It is always a good idea to talk to a doctor before using these supplements.
What are the Side Effects?
Like any other supplement, the user of 4 Gauge can experience some unintended consequences. However, most side effects have been reported by users who either didn't use the supplement correctly or took the wrong dosage.
There are minimal to zero cases of users who experienced side effects after properly following the usage instructions.
However, some side effects such as headaches, jitters, or upset stomach, common in most supplements, can be expected.
An upset stomach is understandably more likely if you are not accustomed to taking supplements or taking a dosage suitable to your body.
One way to combat an upset stomach or headaches is to slowly build up the amount of supplements you consume before each workout. This way, you can gauge your body's reaction to the supplement and calculate a dosage that works well with your body while adjusting to the supplement itself.
4 Gauge Pre Workout: Pros & Cons
Pros
Natural ingredients
Minimal to no side effects
Enhanced focused
Higher energy levels

Agreeable fruity flavor
Easily mixed in other drinks
No history of legal issues or lawsuits
Cons
More expensive than other options
Less Creatine per dosage than other supplements
Can only be purchased from the official website and/or manufacturer
Shipping can take longer than desired or expected
Taste and Flavors
One of 4 Gauge's downfall may be the number of flavors they offer.
At the moment, 4 Gauge only offers one flavor. The company prides itself on its fruity flavor, which they describe as both a fruit-blast and fruit punch.
There are no artificial sweeteners. The flavors attempt to match all the healthy and delicious fruits, like watermelon, that offer nutrients and amino acids the body uses for muscle maintenance.
Many users describe the taste as fruity ice cream or fruity yogurt. Some consumers may find the taste a little bitter at first. We think it could offer a great addition to your favorite fruit smoothie or flavored water.
The combination highlights the fruit flavor while minimizing any bitter flavor you may experience.
That is not to say that it needs to be blended into a flavorful drink. The mixture itself is fruity but not too sweet. Its sour and bitter edge helps to balance the fruit, allowing it to be mixed as a nice fruity water drink.
The balance of sweet, bitter, and sour offers a better taste than other pre-workout supplements on the market.
We find that 4 Gauge offers a flavor that most users will find agreeable.
Usage and Dosage
The company and label recommend two scoops (14 grams) of the 4 Gauge supplement in at least 300 ml of liquid. This can be adjusted to each individual's body, and we recommend that you take a dosage that works well with your body.
The supplement should be taken 30-45 minutes before a workout so you can experience the full benefits of the active ingredients.
There are 20 servings per container of 4 Gauge with only five calories per serving size. We find the label on 4 Gauge to be clear and easy to read. There are no mysteries about what is inside each bottle.
You will find that the two primary ingredients are L-Citrulline Dl-Malate (6000 mg) and Creatine Monohydrate (1000 mg). Following these two ingredients is L-Carnitine, which makes 500 mg of the serving size.
Where Can You Buy 4 Gauge?
4 Gauge can only be purchased from the official website or Roar Ambition (the manufacturer). Unfortunately, these are the only two places you can make your order, limiting its usage.
On the one hand, this is good because you can only buy the official product. There's no option to buy from any other company other than the official sellers. And this ensures that you only purchase the real product.

However, limiting the number of outlets also comes with its fair share of challenges. You will most likely experience longer shipping times because of the backlog and logistics. You are definitely going to wait for your product for a bit longer.
We recommend that you make your order for the next shell to counter the waiting time before your current shell runs out. This way, you will be sure of continuous usage.
While the wait can be frustrating, we think it is assuring to know that you are buying the real product.
Value for the Money?
Overall, this particular supplement is not friendly for those strapped for cash.
It is more expensive than other supplements on the market that claim to offer the same benefits. However, this product works as it claims to do.
Roar Ambition does a great deal that can be taken advantage of, the Ultimate Ammo Crate. Buy four shells and get one free – as well as free shipping to either the UK and the US.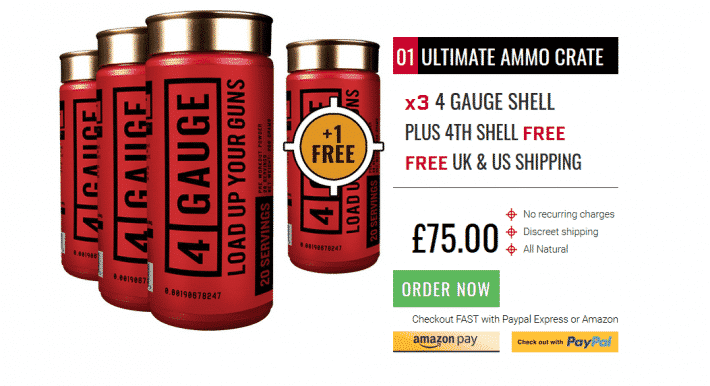 Check out the deal here: www.4gauge.com/ultimate-ammo-crate/
This supplement will help you maintain energy and focus, which results in improved gains during your workouts. The side effects are either minimal or non-existent, especially if you use the supplement as directed.
You can only get a genuine product from the official manufacturer and not a dupe from another company trying to scam you or sell you a less-than-effective product.
While the shipping can be frustrating, it's certainly not a deal-breaker for those who plan and can be patient.
With a fruity taste, quality assurance, and natural ingredients, 4 Gauge seems to be worth the value.
Does it Work? Are there Testimonials?
Testimonials and reviews from users show that 4 Gauge does work.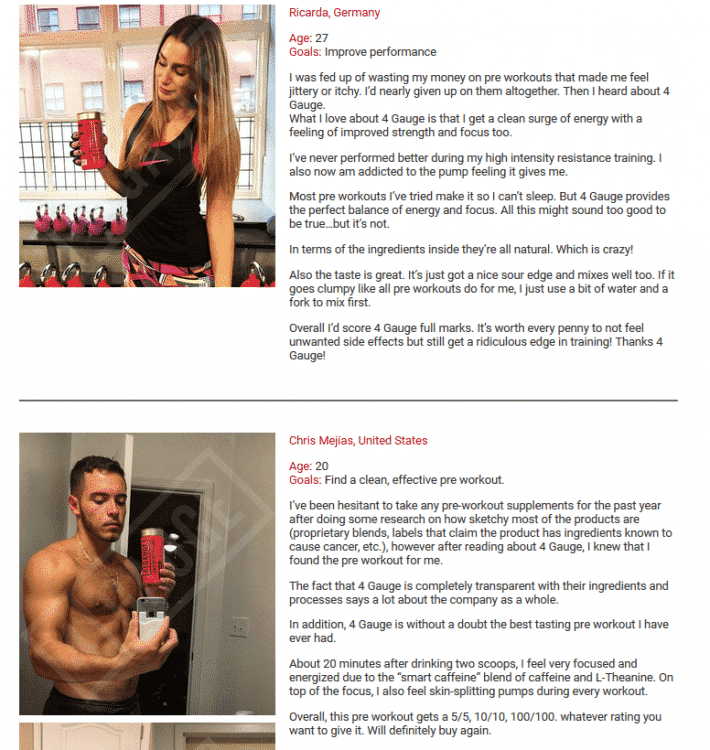 Check out customer testimonials here: www.4gauge.com/testimonials/
Aside from several reviews on the manufacturer's website, a great majority of health and fitness websites and blogs can attest to the validity and effectiveness of 4 Gauge.
Perhaps the most encouraging aspect of the testimonials found across websites is the sheer range of ages. On the manufacturer's website alone, there are users from ages 20-50.
Common across the testimonials and reviews mention "improved strength" and "better muscle gains." You will also find mention of the flavor. It is described as sweet with a hint of sour, but "it's just got a nice sour edge and mixes well too." Aside from mixing well with water, users describe the texture as smooth and not gritty.
Many of the users also mention that there is no "crash" after using it. We suggest you browse other reviews and testimonials to see for yourself the positivity surrounding this product.
Conclusion
We offered you a thorough peek inside the shotgun shell bottle that is known as 4 Gauge. After delving into the ingredients, the side effects, and the logistics, we can offer you a few points about this product.
While the product seems a little more expensive than other options, the product boosts focus and reduces fatigue levels during and after workouts. It allows you to reach your goals and keeps a positive attitude.
The side effects are minimal or non-existent, and most users experience no crashes.
The fruity flavor is likable. Even if you do not like the flavor, you can mix it easily into another drink. With its smooth texture, it is almost invisible when mixed with a drink.
The ingredients are natural, and the supplement only amounts to 5 calories per serving, which will easily burn during your workout.
Overall, this supplement is not cheap, but 4 Gauge will help you achieve your goals while offering a positive experience.
**Last updated March 2021
References
Creatine. (2018). U.S. National Library of Medicine. https://medlineplus.gov/druginfo/natural/873.html
Nobre, A.C., Rao, A., & Owen, G. N. L-theanine, a natural constituent in tea, and its effect on mental state. U.S. National Library of Medicine, https://www.ncbi.nlm.nih.gov/pubmed/18296328
Ai, Y. Mao, M., Sato, M., & Hidehiko, Y. (2012). Effects of L-theanine or caffeine intake on changes in blood pressure under physical and psychological stresses. Journal of Psychological Anthropology, 31: 28. https://jphysiolanthropol.biomedcentral.com/articles/10.1186/1880-6805-31-28