If you buy something through a link on this page, we may earn a small commission. See our
disclosure page
.
You bet there is no exercise better than walking, running, or jogging to trim off the chubby fats around your body. These activities are great for your cardio and also enable you to develop stamina.
Even if you are looking to improve your endurance, you need to indulge yourself in these activities.
If you are looking to lose weight and get your heart fit, you need a treadmill. The best treadmill machine allows you to walk, sprint, run and jog. You won't have to leave the comfort of your home.
We have spent many hours searching for the best treadmills, sifting through hundreds of treadmills over the internet. And we compiled the top 10 best treadmill machines for your home gym.
But first…
What is a treadmill & what are its benefits?
A treadmill is a piece of exercise equipment that you can use for walking, jogging, sprinting, or running. Some of these machines even provide you with the option of climbing with an inclined surface mode. You won't have to go anywhere to make your tracks.
There are various benefits of using a treadmill. First of all, you won't have to go to your sweaty and overcrowded gym. You won't have to dodge those pet waste piles on the sidewalks. And, of course, you won't have to deal with those inattentive drivers on the road when you are out for a jog.
These treadmills are not 1-trick ponies, and many people think so. You can include a variety of cardio workouts. And if you can switch to various combinations, you will be able to lose weight in no time.
Apart from that, you can also improve your overall heart health.
Last but not least… Your legs can develop endurance, and your body will get lean muscles over time.
The 10 Best Treadmill Currently on the Market for 2021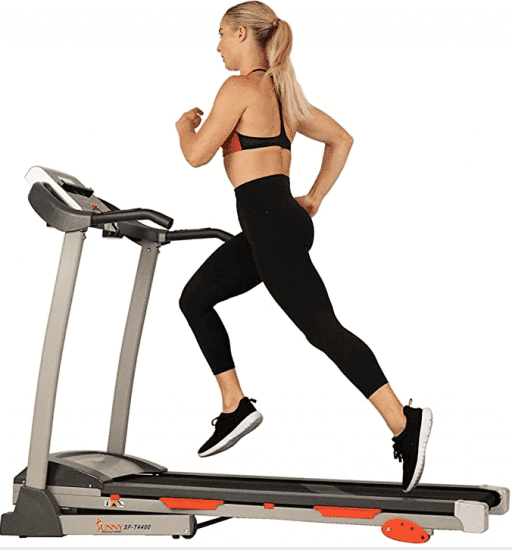 SFT4400 has all the features you need to train and achieve your weight loss and endurance goals. This treadmill features a device holder, and you can place your smartphone and stay informed while you are losing your calories.
The machine also features a shock absorber so you can run or job and even sprint if you want on this machine.
Apart from that, you can use the inclination feature if you want to make your activity intense. There are three different inclination options, and you can increase or decrease the level of your climb without any extra settings.
The machine is equipped with a 2.2HP horsepower motor, and it can go up to 14 km per hour. The machine has a running surface of 49 x 15.5 inches, and the weight capacity that it can hold is 100 kgs.
We recommend this treadmill because it checks all the boxes, but we understand how treadmills work.
This list is coming as a result of the experience and tests that we ran over many years. So if you are looking for some good results for your fitness regime, then you need to try this treadmill from Sunny, hands down.

A 2.2HP motor can go up to a speed of 14 km an hour.
3 different inclination levels.
The maximum weight capacity is 100 kgs.
Wide surface area.
9 different preset workout programs.

With a folding design, it is a good choice for tight spaces.
The belt requires some frequent adjustments.
Best place to buy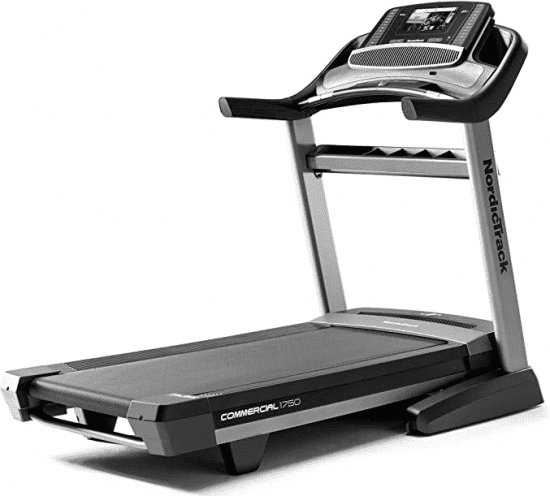 It is a commercial-grade treadmill machine with a full 1-year membership with iFit free of cost. This program allows you on-demand access to your workout scheme with a trainer. Now you get to use your machine and also do other workouts to achieve your fitness goals effectively.
The running surface of this treadmill measures to be 60×22 inches, which is ideal. It also comes with two different inclinations and can comfortably hold a weight of 136 kgs. The treadmills can go up to 19 km per hour, and they will seriously test your endurance and stamina.
With the iFit program, you can also use preset modes for your running speeds and inclinations. It means that you will be able to match the real-world scenario and effectively achieve your fitness goals.
The display of this treadmill is 14-inch big, and you can see all the information displayed on it. The machine also comes with a warranty of 10 years for your peace of mind.
If you weigh more than 100kgs and are afraid of hitting the gym, we will highly recommend this treadmill. There are not many machines out there that will topple this treadmill from NordicTrack.

10-year warranty.
Large surface area.
Can handle heavyweight runners.
19 km per hour top speed.
Folding design for compact spaces.

Free of cost 1-year iFit membership.

The assembly process is a bit difficult.
Only 2 inclination levels.
Best place to buy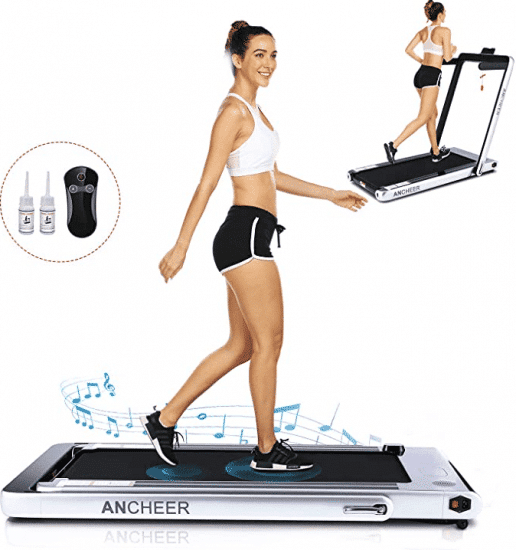 Are you living in a small apartment and want to have a treadmill in your home gym without compromising the space? Ancheer treadmill has a solution for you. You can place it under your desk, sofa or bed when you are done.
You can walk or run according to your fitness goals. Use it comfortably when folded and placed under the desk. It means that you can keep working while being on your treadmill.
You can do this by laying down the handrail. In this mode, the top speed of the machine is 4km per hour. When the headrails are up, you can use them traditionally, and the top speed goes up to 12km per hour.
But it would be best if you kept in mind that this treadmill is designed for portability and ideal for lightweight athletes. The max weight capacity of this machine is 100 kgs. It might be a bit of a downfall, but the entire focus of this machine is to be portable, and it achieves that pretty well.

Foldable design.
Smart workout application and inbuilt Bluetooth speaker.
No assembly required.
1-year free parts replacement.

Remote control to adjust the speed.
No inclination option available.
Best place to buy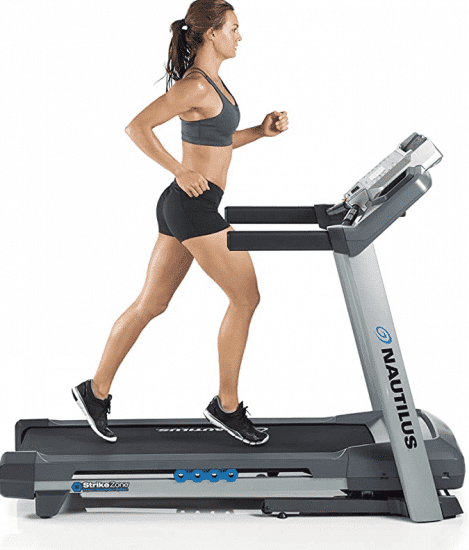 The T614 machine from Nautilus comes with a goal tracking functionality. It means that you can comfortably set your goals and work out around them with ease.
The machine can provide you with an inclination of 12%, and the inclination is motorized. Therefore, you can shed those calories at an even faster rate.
Twenty-two different programs are installed in it. These include manual, train, quick goal heart health, weight control, interval workouts, and customized workouts.
To provide you with a smooth run, this treadmill features StrikeZone, a cushioning system designed for smooth running. This machine features a 2.75 continuous horsepower motor, which makes it one of the best in terms of power generated.
The weight capacity of this treadmill is 100 kgs, and the motor becomes smoother as you put in more effort and speed. It also features a SoftDrop folding mechanism that allows you to save space. It is a good quality machine to build endurance and strength.

22 preset programs.
StrikeZone soft cushioning system to reduce impact.
A wide running path of 50×22 inches.
SoftDrop folding for space-saving.

Performance tracking option available.
The deck is a bit too high because you cannot achieve full inclination, or your head will hit the roof.
Best place to buy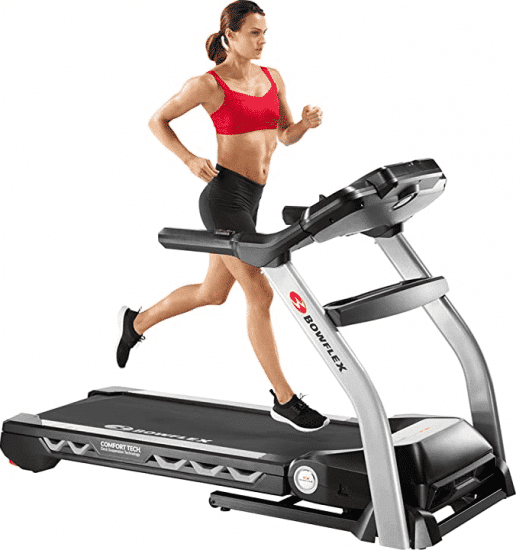 Bowflex is one of the top brands when it comes to exercise equipment. And this treadmill is no different, either. The BXT116 is among those high-end treadmill machines that feature coaching technology.
It can also integrate into your daily routine and make adjustments accordingly. You will get your feedback continuously, and it will be a huge motivation for you. You can get access to dozens of certified virtual courses.
The machine provides different types of running trails according to your fitness requirements and performance level. The inclination available here with this machine is 15 percent, and you can vary the intensity of your workout accordingly.
The surface area of this treadmill with which you can work is 60×22 inches. It also comes with cushioning systems.
You can also use 11 different preset programs as well to suit your needs. The machine comes with a powerful 3.75 CHP motor. This means that you don't need to wait to jump on your treadmill until it reaches its full torque.

Suitable for expert and experienced runners.
Explore different virtual courses as well as stunning trails.
15% inclinations available.
11 different preset programs to use.
170 kgs max user weight capacity.

Customized workouts according to your requirements.
Assembly is not easy.
Best place to buy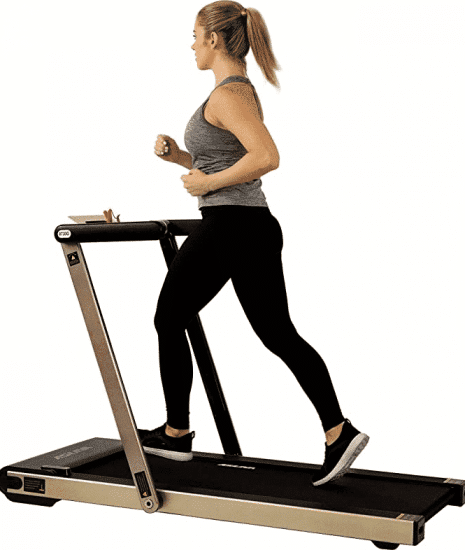 This treadmill is another one of those space-saving options that you should consider using in your home. The display of this machine is straightforward to understand. And you can see all the information in a very compact and useful manner.
The designs and construction of this machine are very portable, and even if you have a compact space available, it will fit in nicely. You can conveniently fold it flat and place it under the surfaces. Easy mobility and transportability are among the top features of this treadmill.
It also allows you to connect your music and play your favorite tunes while working out. The machine also comes with a 2.5HP motor that can easily bear weight in the motion of 100 kgs. It is a good choice if you like to walk and run alternatively.
Here's the best part…
You don't have to be a mechanical engineer to get it assembled. The instructions are nice and easy to follow, and within a couple of hours, you will get it up and running. And of course, if space is your concern, then this treadmill is the right choice for you.

Effortless assembly.
3.5mm jack for music.
Top speed of 12.5 km per hour.
Max weight capacity of 100 kgs.

Designed for portability.
No preset programs.
Best place to buy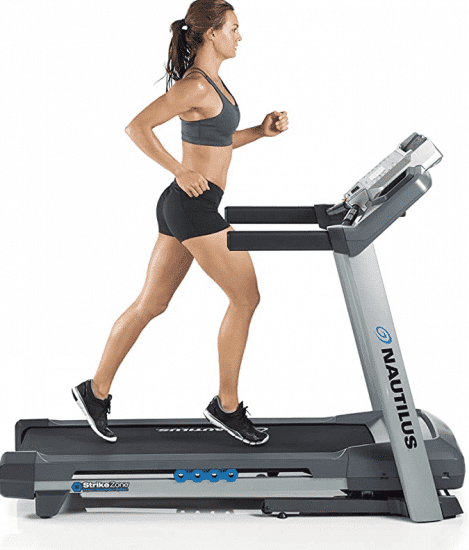 Another one comes from Nautilus, and this time it's their T616 model. It features Bluetooth connectivity and will sync with the Trainer 2 application for Nautilus. It can also integrate with the RunSocial app, and you can gain access to 27 different routes from 19 different locations all across the globe.
15% inclination is available, and the machine has a weight capacity of 135 kgs. The total running surface is 60×20 inches, and there are 26 different preset programs available. The machine is equipped with 3 CHP motors and also has other features like StrikeZone and Soft Drop.
Assembling this machine is not that big of a deal, but moving it is a whole different ball game. This is one of the heaviest of all these treadmills on this list. You will surely need some help to move it around.
Therefore, you should assemble it where you want to keep it for a long period. You need to have some good space, and the treadmill needs some clearance of at least 3 to 4 inches from the wall.

Max weight capacity of 135 kgs.
StrikeZone and SoftDrop features are there.
A wide running surface of 60×20 inches.
15% inculcation available.
15 years warranty.

Connects with RunSocial and the Trainer 2 app by Nautilus.
This machine is difficult to move around.
Best place to buy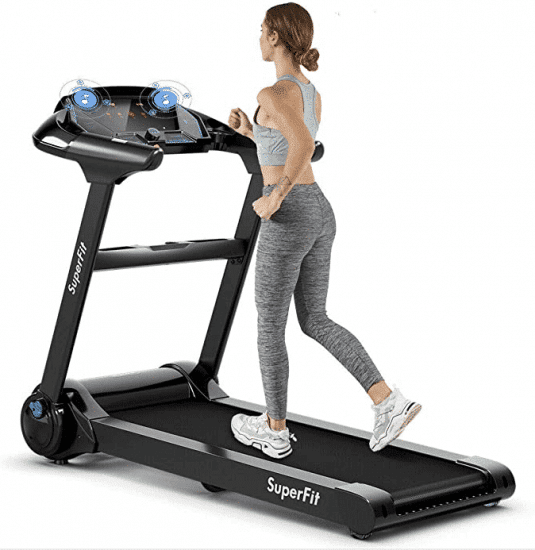 This machine from Goplus is equipped with a 2.25HP motor, and its max weight capacity is 120 kgs. With its easy-to-operate knob, you can adjust the speed between 1 to 14 km per hour.
The running surface available is 48.5 x 17 inches. It is a surface that is a bit on the smaller side, but the machine is a good candidate for the best space-saving options.
Due to its compactness, this machine is a good choice for you to consider if you want no help in setting it up or moving it around your house.
This is the option that you should consider if you are looking for a machine to move around with ease. This treadmill doesn't weigh much, and you won't need any external help. But all is not good with the compactness of a treadmill.
The 5-layer belt gives you a non-slip, shock-absorbing, and soundproof running experience. Simultaneously, the large display screen allows you to see the numbers easily while you're running.

Low noise.
The maximum weight capacity of this machine is 120 kgs.
Bluetooth speakers.
Compact construction.

Shock absorbing system.
No incline level.
Best place to buy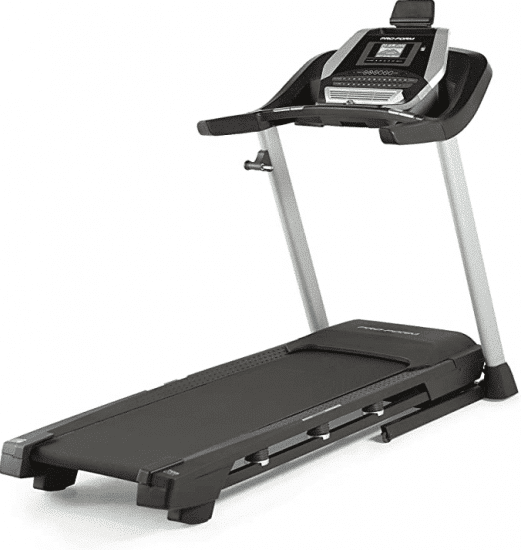 With a top speed of 19 km per hour, the 705 CST for ProForm offers a great platform for extreme runners. It comes iFit-ready, and there are 22 different preset programs available for you to run.
If you are looking for a treadmill designed for simplicity, and there are not many complications to run it; then, this needs to be in your home.
The machine runs on a 2.75 HP motor and has 60×20 inches running surface area. It means you can use it conveniently for running, jogging, climbing, or walking with ease.
It also provides you with an option of a 12% inclination that you can use to intensify your workouts. The maximum weight capacity that this machine has is 145 kgs and also comes with a 2-year warranty.
The iFit membership will come in handy if you are a beginner and don't know much about achieving your fitness goals.

Effortless assembly.
The maximum user weight capacity of this machine is 145 kgs.
The running belt measures to be 60×20 inches.
It comes with a 2-year warranty.
22 preset programs available to design your fitness regime around.

Top speed 19 Km per hour.
Must need iFit membership, which is only a 30-day free iFit trial available.
Best place to buy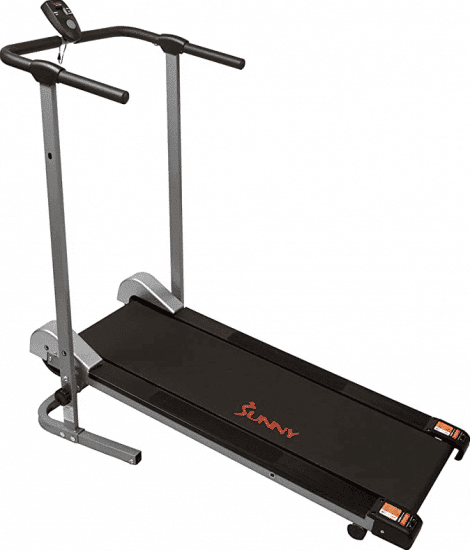 This treadmill is intended for beginners with a low budget. A low price doesn't mean you have to compromise on treadmill features, but understandably there are no luxuries attached to it.
Just like the previous entries, this machine can take a troll of up to 100 kgs. Furthermore, the non-slip surface allows you to run for hours.
Looking for an inclination option? This treadmill has got you covered. You can use its fixed incline setting to challenge your glutes, quads, and calves with each step.
Its ability to run without electricity allows you to place it anywhere you would like, be it your garden or roof. Plus, you'll save on power bills.
A small LCD screen will allow you to create and track your fitness goals that monitor your track time; calories burned, speed, and steps.
You can use it for a regular walk and light jogging. It is a suitable choice for those looking to walk and occasionally run to get their cardio right. The surface area of 42 x 13 inches makes it a compact machine and ideal for small apartments.

An excellent choice for walking and jogging outdoors.
No electricity required.
The machine has a weight capacity of 100 kgs.
Portable construction for compact spaces.

Power bill savings.
No electric motor.
Best place to buy
Which treadmill is right for you?
You have to be vigilant in your buying decision so that you may get the best bang for your buck. Here are some suggestions to keep in mind.
Budget Treadmill (for beginners)
The budget treadmills are only good for those who don't want to spend much or are new to running. You might be planning to run as your initial plan for a major fitness program.
You are looking to build endurance and stamina to perform well in the gym later on. In such a scenario, a budget treadmill will be a good choice.
Mid-range Treadmill (for intermediate runners)
Maybe you are looking to do some running or jogging as a part of your fitness regime. In such a case, you will be focusing on other workouts as well, but running and walking will be secondary in your preference.
And you will only focus on it to keep your stamina consultant. In this case, you will need a mid-range treadmill with which you can walk or run for a few miles now and then.
High-end Treadmill (for experienced runners)
The high-end machines are built for professionals and experienced athletes. These machines come with a variety of features. You will have different types of sensors in them like heart rate sensors etc.
And these machines will allow you to play your favorite music as well. You can run, sprint, jog, walk, and climb on these machines without any issues.
What to consider before buying a treadmill?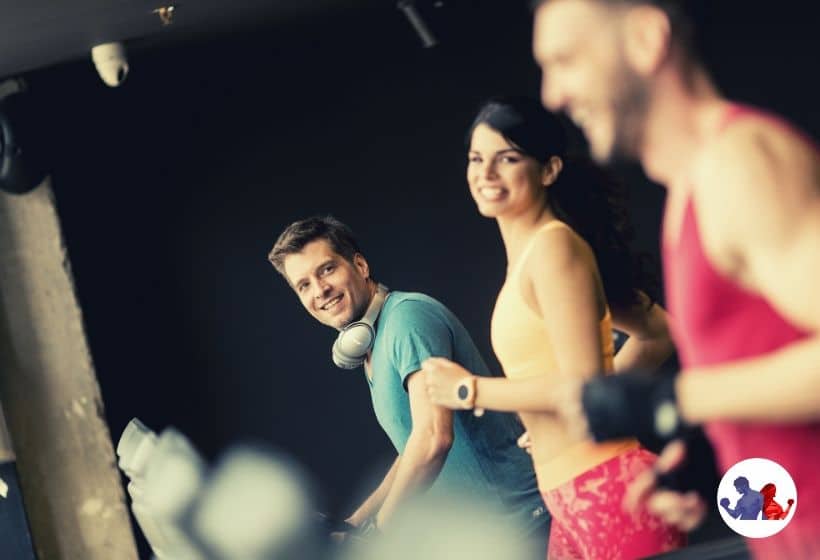 There are some important features that you need to consider before investing in a treadmill. First of all, identify your needs and goals and then start looking for the features that will allow you to meet those goals. This way, you will be able to get the most out of your purchase and reach your fitness goals as well.
Treadmills of different motor sizes are available. Usually, the low-end treadmills have a motor size that will be around 1HP or 1.5HP. These motors are designed to carry a limited amount of weight, and you are only bound to do walking or a bit of running on these treadmills.
You need to look for a powerful motor that has at least 2.0 HP for running.
The high-end machines will come with top-quality computer features in them. They can tell you how many kilometers you have walked and what your current heart rate is. Some of them even tell you about your blood pressure and blood oxygen levels. The more recent models feature step counters and the ability to connect with other devices, like your smartphone or watch.
If you are looking to use your treadmill in routine, it needs to come with different technologies. Wifi and Bluetooth connectivity need to be there. The touchscreen needs to be large enough for easy reading.
There should be a 3.5mm jack port to connect your phone so that you can listen to your favorite music while running.
If you are looking to buy a machine that continues to perform year after year, then you should choose one that comes with an excellent weight capacity. It is a clear indication that the machine you are considering is well built.
A machine that doesn't put you through any repairs or part replacements needs to come with a decent warranty ranging between one to two years.
It is a good feature that you should keep in mind if you are looking to build stamina and endurance. This feature and similar others will be there in those high-end models, and it will keep you notified about your current heart health.
The inclination feature allows you to run on a flat surface but with an inclined angle. It is only available in mid-range and high-end machines, and you can increase stamina and endurance. You can increase or decrease the inclination according to your needs and requirements.
Of course, the machine that you are considering needs to be very durable. It should be made of high-quality materials. It is important because it needs to accommodate your weight while you are on the move. If it is not sturdy enough, your machine won't last for long.
If you are looking to use your machine frequently, it needs to be durable and made of high-quality materials. Therefore, you need to choose a quality piece of equipment in the first place.
Another integral feature is a machine's overall running surface area. If you are a tall individual and have long strides or have heel strikes, this feature becomes even more important.
A larger deck will be more suitable for you. The deck needs to be at least 20 inches wide and 55 inches long. The ideal dimensions here for the surface area are 60×22 inches. Even an extra 2-inch size on the width will make a huge difference.
Our Verdict
The best treadmill that you can opt for is SFT4400 by Sunny. It has all the features you need to get your weight loss and fitness regimes back on track. It is equally great for your cardio and building stamina.
The machine comes with 2.2HP, and it can provide you with a top speed of 14 km per hour. There are three different inclination options for you to increase the intensity of your activity. The tuning deck of this machine is 49×15.5 inches in size, and the max weight capacity is 100 kgs.
So which one of these treadmills do you think you will buy for your home? Have you used any one of these before? Tell us your side of the story by leaving your comments below!